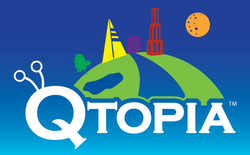 With Qtopia, I have seen students that are typically unmotivated perform better while having fun and enjoying it.
Puyallup, WA (PRWEB) February 1, 2011
Qtopia, a free online learning platform with thousands of ready‐to‐use practice materials, will be revealed at FETC. The online environment provides student access to educational activities, games, and homework from anywhere with internet access. The service was developed by Qwizdom and is available for immediate use at Qtopia.com.
"Qtopia was created with the educator and learning process in mind. Ease of use and flexibility are not only key features but they were the cornerstone in our development process. What we have created is an online community for students and teachers that makes learning successful, measurable, and fun," said Darin Beamish, CEO of Qwizdom.
Students can personalize their own account with customizable avatars, Qtopians, who grow with each student as they overcome challenges and earn rewards, encouraging student motivation. Educators can save time and paper when assigning homework and other activities that feature automatic grading, instant feedback, and data tracking. Online messaging and reporting tools make it easy for teachers to keep parents informed on their student's progress and assignments.
Qtopia was piloted in January by a variety of instructors, including Technology Teacher Marty Harrington at Gray Elementary in Gray, Georgia. She noted, "With Qtopia, I have seen students that are typically unmotivated perform better while having fun and enjoying it."
Qtopia access is free to educators and students. An extended version, Qtopia Plus, is in development and will feature increased customization, access to ReadySet State standards‐aligned curriculum, additional games, animated avatars, supplementary lesson and answer explanations, and district‐wide reporting capabilities.
About Qtopia
Qtopia is a new online learning platform for curriculum‐based education where teachers create customized lesson plans and assignments that incorporate gaming into everyday lesson practice. Qtopia has been pilot tested by leading schools across the country and is a registered trademark of Qwizdom, Inc.
For more information, please visit http://www.qtopia.com or call 877‐794‐9366.
# # #