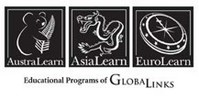 Given the rising prominence of China on the world economic stage, an internship with a Chinese company is highly valuable to a student's educational and career development
Denver, CO (PRWEB) February 1, 2011
GlobaLinks Learning Abroad, a provider of international education programs across the globe, today announced new internships in Shanghai through its AsiaLearn program, providing Mandarin language lessons, academic credit and placement with a Chinese company.
"Given the rising prominence of China on the world economic stage, an internship with a Chinese company is highly valuable to a student's educational and career development," said Barbara West, manager of internship programs for GlobaLinks Learning Abroad. "Our partnerships in Shanghai allow us to provide a complete array of services to effectively remove any barriers keeping students from interning abroad in this bustling multinational business hub."
U.S. and Canadian students who want to intern abroad in Shanghai can choose between a Professional Development for Academic Credit (PDAC) internship, which lasts 10 weeks and includes pre-set dates and built-in academic credit from Chapman University, or a Custom Date Internship, which offers varying dates and is customized to meet a student's individual needs in almost any academic major.
All Shanghai internships include these services to support a student's experience from program application to returning home:

Pre-departure assistance.
Airport pickup.
Bridging Cultures Program or on-site orientation.
Housing.
24-hour in-country support from resident directors.
Mandarin language education to assist students with cultural integration.
Internship opportunities conducted in English.
Academic credit through Chapman University or credit approval assistance through home university.
"With China now the second largest economy in the world behind the United States, more U.S. and Canadian students need to strengthen their resumes through international experience," West said. "As China's center for commerce and economic growth, Shanghai is an ideal internship location for students that offers professional experiences in just about every field, whether biomedical, computer science, finance, public relations, architecture, healthcare or hospitality."
New Shanghai internship placement opportunities are continuously being added to meet interns' needs. To learn more about internships in China, visit the AsiaLearn Internships page.
About GlobaLinks Learning Abroad:
Based outside Denver in Westminster, Colo., GlobaLinks Learning Abroad is a leading provider of education abroad programs for college-level students in destinations across the globe. Students from more than 800 universities and colleges across North America choose to study with GlobaLinks Learning Abroad each semester via its educational programs:
AustraLearn.org offers semester, year, internship, and summer abroad programs in Australia, New Zealand and Fiji via 35 partner universities, and degree programs in Australia and New Zealand at more than 30 institutions: DegreesOverseas.com.
AsiaLearn.org offers semester, year, and summer abroad programs in China, Hong Kong, Japan, Malaysia, Singapore, South Korea and Thailand via nine partner universities.
EuroLearn.org offers degree, year, semester and summer programs, including research abroad, in the Czech Republic, England, Germany, Greece, Scotland, Wales, Ireland, Italy, and The Netherlands via 17 partner universities.
Since it was founded in 1990, GlobaLinks Learning Abroad has sent more than 20,000 students on educational programs worldwide. For the latest news on our programs and partners visit GlobaLinksNewsWire.com.
# # #