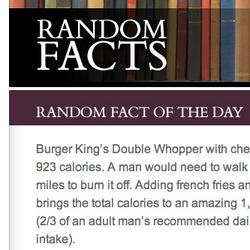 It was our goal with the site to advance the place of accurate and interesting facts and history on the Internet, and we hope we have accomplished this goal.
Salt Lake City, UT (PRWEB) February 3, 2011
In today's mobile, fast-paced world, most people no longer have the time to pick up a book and search for the facts and knowledge they need. Enter RandomHistory.com, a virtual library full of interesting history articles and now, with the addition of a new random facts section, the perfect modern resource for quick and accessible facts, trivia, and history is available online, anytime. As site history writer Rose Baron says, "We know how busy the average person is with life demands, so we've tried with Random History to make it just a little easier to continue the lifelong learning process that enriches everyone."
The information-rich site is currently divided into two sections: facts and histories. Each article in both sections is carefully researched and contains a professional bibliography that readers can reference to check reliability or find more information. Busy readers will also enjoy the stream-lined, mobile version of the site available for quick viewing on any smart phone or device.
As visitors enter the history portion of the site, they can quickly view the ten most recent history articles added to the site, as well as the ten most popular histories in helpful sidebars, making it easier for repeat visitors and first-timers alike to see just what the site has to offer. If the history topic visitors need is not shown on the homepage, the entire history collection is just one click away with a neatly alphabetized list of every history article currently available on the site. Hundreds of topics are available, and each history is carefully researched, written, and reviewed for accuracy and accessibility. Visitors may even commission a new article topic of their choice if it is not currently available on the site.
Newly added in 2010, the facts portion of the site greets visitors with a Fact of the Day, carefully selected from among the most interesting and popular facts, which can be quickly shuffled to a new random fact about a different topic with just a simple mouse click. Like in the history section, readers can see the ten most popular fact lists, as well as the newest fact lists, directly from the homepage. Hundreds of additional fact lists about in-demand and hot topics are also available in a topically categorized catalog for viewers to quickly peruse everything the site has to offer. Differently from other similar facts and trivia sites, each fact list within Random Facts is organized into a specific topic, and each fact within the article is referenced, guaranteeing its accuracy and reliability.
Fans of Random Facts can subscribe to the site's RSS feed for instantaneous updates of newly-added content or visit its Twitter page to see fun tidbits of trivia added daily. The site also offers a dedicated Facebook page where visitors can see highlighted facts from new articles, express opinions about new topics, and even exchange in comment discussions with other friends of the site.
Because accuracy of information is so important to the creators of Random History, each writer for the site has a Bachelor's degree in history, English, or journalism, and some of the writers have even earned advanced degrees. In addition, each article is carefully reviewed by a professional editor prior to publication to ensure it is of the highest quality. Not only is RandomHistory.com a hit with web users, it has also been cited by such reputable organizations as the New York Times, San Diego State University, and the Library of Congress for its valuable information.
While similar websites may exist, RandomHistory.com truly has something unique to offer with its reliable, interesting, and timely information. "It was our goal with the site to advance the place of accurate and interesting history and now facts on the Internet, and we hope we have accomplished this goal," says Baron. Always a source of fun, interesting, and reliable information, RandomHistory.com now offers even more to satisfy its visitors' educational cravings.
# # #