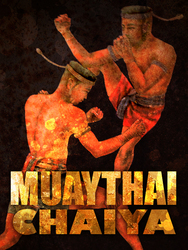 "With Muay Thai Chaiya, a fighter can overcome his opponent using the opponent's own impact," he says. "But Muay Thai Chaiya's technique doesn't rely on offensive moves alone. Its concept has been profoundly thought out by our ancestors and passed on from
(PRWEB) February 3, 2011
Anyone with an iPhone or iPod can now easily learn Muay Thai Chaiya (also known as primitive Thai kick boxing), thanks to the new Muay Chaiya app from Buffy Studio Co., Ltd. The martial arts app shows users how to make a counterattack when placed in a fighting situation.
The app's creator, Pijuck Rakkandee, says Muay Thai Chaiya is not difficult to learn. The Muay Chaiya app demonstrates the movements in slow speed and from different angles.
"With Muay Thai Chaiya, a fighter can overcome his opponent using the opponent's own impact," he says. "But Muay Thai Chaiya's technique doesn't rely on offensive moves alone. Its concept has been profoundly thought out by our ancestors and passed on from one generation to another. Fortunately, the essence of Muay Thai Chaiya has been completely preserved in its original form at Baan Chang Thai by Master Lek, my teacher. And with this app, Master Lek will introduce this unique martial art form and its amazing techniques to you."
Muay Thai Chaiya, or any form of Thai boxing, is a way to express the cultural beauty and heritage of Thailand and has been passed down from generation to generation. Throughout the history of Thailand, all of the great warriors of the past had at some point practiced Muay Thai Chaiya before they picked up swords to ward off the invaders.
Rakkandee says Muay Thai Chaiya signifies safety and security for the lives of those who practice it. "Since Muay Thai emphasizes safety, one has to be very patient, careful and precise when practicing it," he says.
To purchase the Muay Chaiya app, visit: http://itunes.apple.com/us/app/muay-chaiya/id414479622?mt=8&ls=1
To view the app trailer on YouTube, visit: http://www.youtube.com/user/buffystudio
Contact:
Pijuck Rakkandee
Buffy Studio Co., Ltd.
+66 814287723
# # #