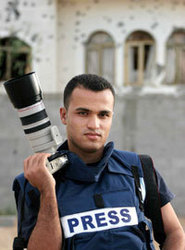 According to Hilberg, Finkelstein displays "academic courage to speak the truth when no one else is out there to support him... I would say that his place in the whole history of writing history is assured, and that those who in the end are proven right t
Ivyland, PA (PRWEB) February 1, 2011
Mohammed Omer is a world-renowned Palestinian journalist. He will come to Temple University on March 3rd and show through words and photographs the current situation in Gaza, which is continuing to be held under an illegal, brutal siege by Israel. Dr. Norman Finkelstein is arguably the leading voice for Palestine in the nation, is Jewish, and is a son of Holocaust victims. Dr. Finkelstein will come to Temple University on April 7th and discuss the current uprisings in the Middle East, and its effects on Israel and Palestine. Both events will be held from 6:00 to 8:30 pm, in Walk Auditorium, Ritter Hall.
Mohammed Omer was awarded the 2007 Martha Gellhorn Prize for Journalism in 2008. In the award citation, Omer was honored as "the voice of the voiceless" and his reports were described as a "humane record of the injustice imposed on a community forgotten by much of the world." Omer was also awarded the Ossietzky-prize by Norwegian P.E.N in 2009. The Prize was awarded for "outstanding achievements within the field of free expression".
Omer has had a tragic life back at home in Gaza. Mohammed's brother was killed in 2003 by an Israeli sniper and nine days later an Israeli bulldozer crushed the family home. His mother was severely wounded, an injury from which she was still suffering three years later. Almost all of Mohammed's siblings have been injured by Israeli military forces. In 2008, Mohammad Omer was severely beaten by Israeli troops while coming back to the Gaza Strip after receiving his Martha Gellhorn Prize for Journalism. He almost died in the attacks due to the severity of his injuries, and he is still in the process of recovery.
Dr. Finkelstein is Jewish, and his parents were victims of the Holocaust. Finkelstein recalls his strong youthful identification with the outrage that his mother, witness to the genocidal atrocities of World War II, felt at the carnage wrought by the United States in Vietnam. Finkelstein had internalized her anger. But Finkelstein regards his absorption of his mother's outlook — the refusal to put aside a sense of moral outrage in order to get on with one's life — as a virtue. Consequently, his reading of Noam Chomsky played a pivotal role in modifying the passion given to him by his mother to the necessity of maintaining intellectual rigor in the pursuit of the truth.
Finkelstein's work has attracted a number of supporters and detractors across the political spectrum. Notable supporters include Noam Chomsky, prominent intellectual and political critic; Raul Hilberg, Holocaust historian; and AviShlaim, Israeli New Historian. According to Hilberg, Finkelstein displays "academic courage to speak the truth when no one else is out there to support him... I would say that his place in the whole history of writing history is assured, and that those who in the end are proven right triumph, and he will be among those who will have triumphed, albeit, it so seems, at great cost."
Please contact the presenter of the events, Temple Students for Justice in Palestine, at templesjp1989(at)gmail(dot)com
Contact info:
"Razi Fareed"
Phone number: 215-692-3396
# # #