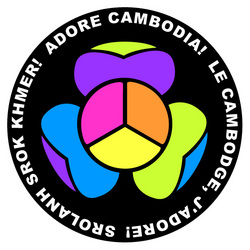 "Major players in the Cambodian hospitality and service industries are extending a genuine welcome specifically to GLBT visitors."
(PRWEB) February 2, 2011
Cambodian tourism businesses have launched a colorful, global campaign, Adore Cambodia!, to let GLBT travelers know they are especially welcome in the Kingdom of Wonders.
With the spread of ultra-cheap flights from regional hubs like Malaysia, Singapore and Vietnam, gay and lesbian tourists have discovered a quiet haven of tolerance, culture and world heritage that is actively reaching out to the economically powerful GLBT niche travel market.
"Siem Reap is remarkable because major players in the hospitality and service industries are comfortable extending a genuine welcome specifically to GLBT visitors," explains John Goss, director of Utopia-Asia.com which lists more than 70 gay-owned and gay-friendly businesses around Cambodia. "These include Travel and Leisure's #1 hotel in Cambodia, dozens of gay-run boutique accommodations, trend-setting restaurants, and fashion and design innovators that are part of a hip, emerging contemporary arts movement dubbed Cambodia Cool."
Siem Reap also boasts Cambodia's first men-only leisure complex combining an uber-stylish hotel, spa, and gym designed by one of the country's leading architects. The New York Times even stood up and took notice recently, proclaiming Siem Reap to be a "gay haven" in 2010.
"Mutual respect between people is deeply a part of Khmer culture. Gays and lesbians are included as long as cultural traditions are respected," explains openly gay business owner, Sopheara. "More and more Cambodians, in all strata of society, are living an open gay life. But you won't find provocative displays of sexuality here, as you might in some other countries. Cambodia is refreshingly free and easy for gays wanting to blend in with our live-and-let-live lifestyle."
There's lots for gay and lesbian travelers to adore in Cambodia. Here are some of the charms to be discovered on your next weekend getaway or extended tropical holiday...
Romantic, gay-run boutique hotels for every budget. Inexpensive foodie thrills, from Khmer fusion fine dining to the handsome grilled banana vendor's cart. A thriving arts, crafts and fashion scene splashing vivid colors across glossy magazines and runways around the globe. Rainbow travel services and tour guides to show you the ancient wonders of Angkor Wat. Responsible eco-tours to remote ruins and forests while viewing wildlife and interacting with locals in rural, community-building projects. A relaxed, no-hustle selection of gay-run bars, gyms, saunas, and spas to add just the right amount of fun and fitness to the laid-back local lifestyle. Super cheap flights on budget airlines to connect you to many of Southeast Asia's heritage cities. And, the tolerant and kind Khmer people who work so hard to make your holiday relaxed and trouble-free.
Discover the beauty of a warm Khmer welcome. You're sure to Adore Cambodia!
The Adore Cambodia! logo design is based on the Cambodian national flower, the Rumbdul, depicted in the six colors of the internationally recognized "gay rainbow."
For more information, please visit http://www.utopia-asia.com/ucool/article_cambodia.htm
###