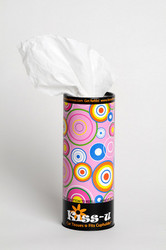 "Love the idea of tissues for your car that is refillable. Love the cool designs on the tube!" - RL "Brilliant idea! Thanks for the online instructions." - JC "I will be ordering refill packs online. Great idea!" - KS
Weston, CT (PRWEB) February 1, 2011
The Kiss-u Tissue Tube, which is intended to stem the rise in distracted driving accidents by placing the tissues in the car cup-holder, is now available in Walgreen stores nationwide. Culled from her own experiences, Ms. Davis designed the Kiss-u Tissue Tube to fit the car cup-holder where it is within easy reach of drivers so they don't have to search the car for tissues and can keep their eyes and attention on the road.
Searching for a tissue while driving is one of the worst kinds of distracted driving behaviors according to the National Highway Transportation Safety Administration because, like texting, this activity requires drivers take their eyes, hands, and attention off the task of driving. Additionally, reaching for a tissue usually requires the driver to lean to the right either to grab a box of tissues on the floor or to reach into a pocketbook or briefcase on the passenger side of the car. Reaching right makes the car veer to the right endangering anyone walking or riding alongside the road. Thus, searching for a tissue endangers not only people in vehicles but pedestrians as well.
Kiss-u-Tissue Tubes are also eco-friendly, in line with Kiss-u Corps LLC's mission to be stewards of the natural environment. The Tubes are made from recycled cardboard and contain elemental chlorine-free tissues, which are super-soft and quite thick -- leading the manufacturers to suggest consumers use just ½ tissue packet at a time. In addition, the tissue dispenser is designed to be refillable. Consumers buy just one dispenser and can refill them over and over again.
This well-designed, environmentally responsible new product arrives at Walgreen stores nationwide starting February 1, 2011. Refills packets can be ordered by going to their website http://www.kissutissue.com.
# # #