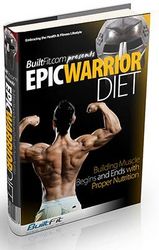 The Epic Warrior Diet thoroughly covers all aspects of nutrition that are required for building muscle and trimming off excess fat
Houston, TX (PRWEB) February 1, 2011
Despite monumental weight training, nutrition, and cardiovascular conditioning efforts, many would-be fitness buffs are frustrated with lackluster results. At least that's what the mastermind of Builtfit.com's Epic Warrior Diet and Workout Program, Thomas Calkins, used to struggle with.
Like many, Thomas tried nearly every fitness program under the sun. "Unfortunately, the only thing that got lighter and trimmer was my wallet", Thomas remarks. In 2008, after uncovering a few pieces of powerful fitness tips that ultimately fueled his metamorphic transformation, Thomas launched BuiltFit.com –
one of the most esteemed fitness, workout, and muscle building resources on the Internet.
Why the new program? "I recently started working with Brian Dean MS, RD, who is not only one of the most respected registered dietitians in his field, but someone who is as passionate about fitness as anyone I've ever met." Thomas adds. "Realizing that we could put our heads together and produce something that really stood out from the pack lit a fire under me."
Brian Dean, who was trained at the prestigious Tufts University, points out what makes the Epic Warrior Diet different from the multitude of fitness programs already out there. "Most fitness programs simply don't work", states Dean. "Typically, they aren't based on science and don't live up to their promises in the long haul," Dean proclaims.
Although it's based on the latest scientific findings on muscle gain and fat loss, the Epic Warrior Diet isn't just a regurgitating of boring University studies. "It has just as much street science as it does laboratory science," Thomas claims. Thomas touches on why the Epic Warrior Diet isn't just another muscle gaining book. "For any fitness program to work, it needs to be research-based and practical. It wasn't easy, but I think my program is easy enough for just about anyone to pick up and benefit from on Day 1."
The foundation of the Builtfit.com's Epic Warrior Diet and Workout Program is the Epic Warrior Diet book itself –a scientifically backed nutrition plan designed for people looking to pack on serious muscle in the shortest period of time. Dean, the dietitian behind the diet, describes the principles behind it. "Many diet plans are overly focused on a single nutrient, like protein. In sharp contrast, the Epic Warrior Diet thoroughly covers all aspects of nutrition that are required for building muscle and trimming off excess fat", Dean says.
Along with The Epic Warrior Diet nutrition guide, a step-by-step fitness plan is included that takes the guesswork out of working out. The Muscle Building Workout Guide is truly revolutionary in its approach. Thomas adds that some of the ideas on the fitness plan will be completely foreign to most. "I combed through the exercise science literature to create a program that gets unusual results. To get unusual results, you have to think and act outside the box –something only the Epic Warrior Diet and Workout Program allows you to do."
The Epic Warrior Diet and Workout Program is available for instant download at Builtfit.net.
###