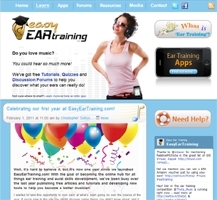 London, England (PRWEB) February 1, 2011
Easy Ear Training, Ltd., a leading online resource for those interested in developing their musical ear, today celebrates the one year anniversary of their website http://www.EasyEarTraining.com. The website, launched February 1, 2010, serves the music community by publishing original articles and training series, and providing training albums, interactive quizzes and a forum for students to exchange information and advice.
To celebrate the one year anniversary, Easy Ear Training has released its first eBook "Introduction to Ear Training." The book outlines how to effectively boost innate musical abilities without formal music lessons. The eBook, which is over sixty pages in length, is available for free download on the Easy Ear Training website.
Easy Ear Training is also offering their hit mobile apps RelativePitch and Step and a Half for 50% off. With RelativePitch, users can learn interval training - from the basics right up to advanced skills. Step and a Half is a game which teaches users to figure out tunes they hear by recognizing the intervals used. The apps, for use on the iPhone and iPod Touch, will be available at the discounted rate for one week only, ending on Tuesday, February 8th. The apps are available for purchase at the Easy Ear Training website and via the iTunes app store.
"We are so excited to celebrate the one year anniversary of EasyEarTraining.com," said Christopher Sutton, founder of Easy Ear Training. "We are committed to be a valuable online resource that meets the needs of musicians, audio professionals and anybody who is passionate about music. In 2011 we'll be expanding our ranges of mobile apps, training CDs, educational eBooks and online training materials to accelerate the progress of any musician who wants to get more from the sounds they hear and the music they love."
For more information about Easy Ear Training, please visit http://www.EasyEarTraining.com.
About Easy Ear Training, Ltd.
Easy Ear Training, Ltd is a United Kingdom based music education and iPhone music training app development company. Founded in December 2009 by owner and Director Christopher Sutton, a lifelong musician and a graduate of Gonville and Caius College – Cambridge University with a degree in Computer Science as well as a graduate of the University of London with a Masters Degree in Digital Music, Easy Ear Training is the premier source for online and application based ear training.
Dedicated to helping artists realize their full musical potential, Easy Ear Training provides products such as RelativePitch, an iPhone app, and a website that serves as a community and resource for musicians and audio professionals who use modern technology to revolutionize the process of improving their skills and optimizing their musical abilities. For more information please visit http://www.EasyEarTraining.com.
###