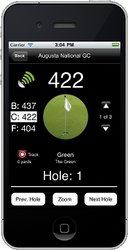 This app adds new dimensions to the game I love. It's easy to use and accurate. You'll find you learn a lot about even a course you play regularly.
West Hartford, CT (PRWEB) February 1, 2011
SkyDroid – Golf GPS, owned and operated by Goldstein Technologies LLC, has had great success on the Android platform, and as of January 2011 is now available on the App Store for the iPhone and iPad (3G model). The app offers an intuitive and beautiful design with great features that help golfers all over the world hit their targets. Using the SkyDroid.net website, golfers can add new courses to the system at any time using a simple web based interface.
Unlike the expensive handheld devices and other apps that require subscriptions, show advertising, or charge for course downloads, SkyDroid is a single one time cost for all features with unlimited course downloads and no recurring charges. Currently priced at $1.99 it's really unbeatable.
SkyDroid gained more that 80,000 customers for the Android version in 2010, and our users added 17,000+ golf courses that cover the world. The iPhone version of SkyDroid has all the great features of the Android version, and all the same golf courses. Now that both the Android and iOS versions of the app are available, with the same feature set, the focus for 2011 will be on adding more and more capabilities to the app across both platforms.
"We are very excited to make SkyDroid available on the Apple platform, and we are hoping it will be as successful on the App Store in 2011 as it was on the Android Market in 2010. We'll be adding some great features to the app in 2011 and plan to bring these to both the Android and iOS platforms." –Paul Goldstein, President
For more information about SkyDroid – Golf GPS, go to http://www.skydroid.net. To get it on your phone or tablet, purchase directly from iTunes or the App Store, or for Android users, launch the Android Market on your device and search for SkyDroid.
###