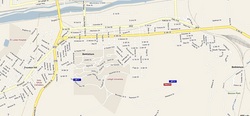 Bethlehem, PA (PRWEB) February 2, 2011
Lehigh University and StarPath Technologies, LLC today announced the launch of a real-time bus tracking website with StarPath GPS fleet management for their vehicles. The website will provide university students the ability to view each campus-run vehicle in real-time, and tracks all bus routes including Athletics, Saucon Village, T.R.A.C.S. and Mountaintop.
For the first time students will now be able to find the exact location of their bus using their laptop or cell phone and wait in a safe and environment controlled building until they see their bus approach their location. This helps students stay out of the rain, snow and other harsh environments.
"Lehigh University is excited about providing this helpful and innovative service to our students, and hopes to see increased usage of the buses," said Chris Christian, Director of Lehigh University Parking and Transportation. "StarPath Technologies offered a superior system, was cost effective and addressed the needs of our students," added Christian.
"StarPath Technologies is dedicated to bringing value to the University by providing them with a uniquely versatile system to help them fully optimize their fleet assets," said John P. Lucich, President of StarPath Technologies. "We appreciate the opportunity to help them achieve goals," added Lucich.
About Lehigh University
For 144 years, Lehigh University (http://www.lehigh.edu) has combined outstanding academic and learning opportunities with leadership in fostering innovative research. The institution is among the nation's most selective, highly ranked private research universities. Lehigh's four colleges – College of Arts and Sciences, College of Business and Economics, College of Education and the P.C. Rossin College of Engineering and Applied Science – provide opportunities to 6,500 students to discover and grow in a learning community that promotes interdisciplinary programs with real-world experience. Lehigh's campus is located in Pennsylvania's Lehigh Valley – in Bethlehem, PA (50 miles north of Philadelphia and 75 miles southwest of New York City).
About StarPath Technologies
StarPath Technologies, LLC is a leading provider of web-based applications for the government and corporate markets and was a successful spinoff of the Network Security Group, Inc. in June 2008.
StarPath Technologies provides a unique approach in the area of Automatic Vehicle Location (AVL) and enables their clients to effectively and easily implement StarPath Mobile, a cost effective solution that enables clients to house the data on their site.
StarPath Mobile is the only web-based multi-agency system that allows several clients to access their vehicles on a single installation. The system can be configured to view their agency vehicles only or to be able to view the vehicles of all agencies on the single installation. It is the perfect solution for shared services. Multiple security levels control the access to view vehicles.
###