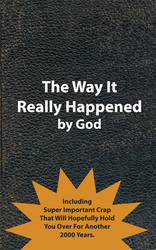 Godley, TX (PRWEB) February 2, 2011
In God's first book in millennia, "The Way It Really Happened" by God, the bestselling author of "The Holy Bible" sounds off on those he likes and those he does not in contemporary society. In a shocking revelation, the Author reveals that no one is beloved more than radio personality Howard Stern.
In the book, The King of the Universe explains that no prayers are answered between the hours of 6:00am-10:00am EST due to all of His attention being focused on the King of All Media. The Author outlines why He loves Howard and recommends that all of His subjects subscribe to Sirius satellite radio, adding that they are to download what He describes as a "miracle": the new Sirius XM app for smartphones. His Holy admiration is such that He went so far as to send His adored the very first printed copy of the book, autographed.
The divine work goes on to outline many more of the Author's favorite things, as well as to correct long-held misconceptions about history, gayness, abortion, Mormons, Jews, Blacks, Chinese people, the afterlife, souls, Jesus, the devil, and loads of other hot topics that may or may not include the subject of a particular religion from a particular part of the world that may or may not be between Europe and India.
The book is available for Amazon Kindle, Barnes & Noble Nook, and iPad, as well as in hard copy on amazon.com or bn.com.
Fans and true believers can follow The Lord on Twitter and Facebook @jayhova42.
http://www.oneruleonly.com
http://www.facebook.com/jayhova42
http://www.twitter.com/jayhova42
"The Way It Really Happened" by God
ISBN: 1456375121
ISBN-13: 9781456375126
###