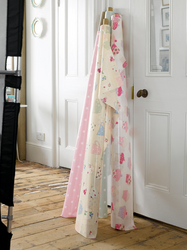 London, UK (PRWEB) February 1, 2011
With recent research showing that a staggering 25% of British employees work all day without taking a break there's never been a better time to ensure that the family all sits down together to a proper dinner, or to gather friends around the table for a weekend get-together.
Old-fashioned values of home cooked meals using locally sourced, fresh produce are gathering force in the UK with people taking conversation over television, slow-cooked casseroles over ready meals and veg boxes over air miles. So it's fitting that there's a trend towards home accessories that come with a traditional feel and a contemporary twist. Large tables laden with food and surrounded by laughter are best spread with a vintage-inspired cloth, but one with a PVC-coating that requires little in the way of cleaning after a fabulous meal - just shake and wipe down. The enduring popularity of polka dots needs no explaining - perky, pretty, clean and unobtrusive, they allow what's on the table to take centre stage without themselves fading into obscurity.
The Laura Ashley range of PVC coated cotton fabrics are available in candy-sweet shades of delphinium, eau de nil, pink and duck egg, all designed to create a fresh, crisp look that will be as well suited to covering dining tables as to providing the backdrop to a children's party feast. Designs featuring cupcakes and teacups will also perfectly create an attractive covering for kitchen tables, combining cosy informality with the appeal of low-maintenance.
And if creating a full meal seems like a little too much effort, anyone can indulge that yen for the type of sociability and companionship that is reminiscent of a gentler, more civilized time with an afternoon tea. Having made a comeback in the last few years, the appeal of tea served from a pot, wafer-thin sandwiches, melt-in-the-mouth cakes and homely scones dripping with jam is as strong as ever. Keying into this trend, Laura Ashley's pretty tiered cake stands come in appealing combinations of spots and stripes, or featuring dainty florals or scalloped edges. One lump or two? Either way, relaxing afternoons spent in the company of friends, family and delicious, soul-warming food make skipping a workday lunch seem worthwhile.
For more information please contact:
Laura Ashley PR Team
0207 880 5100
About Laura Ashley
Laura Ashley is one of the UK's leading retailers, with over 225 stores in the UK and Republic of Ireland, plus an expanding international business offering stylish, high quality, great value women's clothing and home furnishings. In the last financial year Laura Ashley sales were £268.4 million.
As a much-loved British heritage brand Laura Ashley founded in 1953 provides a source of design-led items, good-quality yet accessible fabrics, wallpaper, furniture, lighting and home accessories and women's fashion.
The company also offers an excellent level of services including an array of bespoke options for the home, including made to order upholstery in a choice of over 100 fabric options, made to measure curtains & blinds and a comprehensive Design service.
Laura Ashley has growing franchise operations all over the world, including the Far East, Australia, Scandinavia and South America, as well as increasing numbers of licensing projects for products including carpets, eyewear, scarves and bedlinen.
In addition to an increasing portfolio of store Laura Ashley also offers a mail order service and internet sales at http://www.lauraashley.com.
###