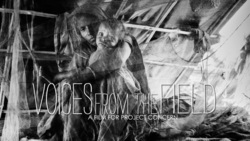 My goal for the film from the start was to present the realized emotional universe of the African victims we were interviewing and show those feelings to the world."
Pasadena, CA (PRWEB) February 1, 2011
A school assignment to rebrand a local aid organization (Project Concern International) lead student film director John X. Carey and two of his classmates at the Art Center College of Design in Pasadena, CA through a twelve day adventure in some of the most aids-ravaged areas of Zambia, Africa.
"All we had were a couple of Canon's newest 5D cameras and a sound recorder. We three just got in a van and drove to various places where the charity was working -- filming the entire time," said John
When they pitched the idea of going to Africa to the client Carey and his crew had a very simple concept.
"My goal for the film from the start was to present the realized emotional universe of the African victims we were interviewing and show those feelings to the world." Said John
"In Africa we spoke with a lot of street orphans, who are children who are homeless because they lost their parents to HIV/AIDS; there are millions of them. The street orphans had sort of a sad, ghostly presence because mostly they just spend their days living in abandoned buildings alone and unseen. I wanted to capture the street orphans' spirit by creating a lyrical friction between reality and ghostliness in the film. I wanted the emotions to feel tangible for the American audience back home so I was shooting a lot of really visceral imagery."
The five-minute film was released online this week for public consumption and John is hoping for the best.
''I went through a lot making this film,'' John writes. ''It was a difficult first film, and a mesmerizing experience."
The film can be watched here: http://vimeo.com/19400243
###