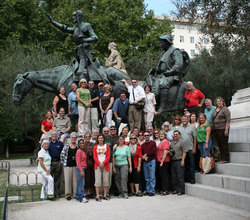 Barcelona and Rome are particularly popular choices as cruise destinations – not only when compared to other European cities but as top cruise destinations around the globe.
Eden Prairie, MN (PRWEB) February 1, 2011
When it comes to taking a cruise vacation in 2011, more people are expected to choose the allure of Europe over the breathtaking beauty of Alaska, according to actual booking numbers released today by Cruise Holidays, North America's oldest cruise-specialty franchise network. Mediterranean cruises climbed into second place in Cruise Holidays' 2011 Cruise Trends report, with Alaska closely trailing. Caribbean cruises remain high atop the destination list by a wide margin.
Europe's allure may be based on its exceptional value right now. Cruise Holidays polled 145 of its cruise experts* across the United States and Canada, and by a three-to-one margin, they stated that Europe is a better value than Alaska, at least in 2011. The Caribbean placed first with 49% of the vote, followed by Europe with 25.5%, and Alaska with 8.3%, followed by other destinations.
"Repeat cruisers are especially drawn to Europe," said Mark Schiffner, vice president and COO of Cruise Holidays. "First timers may choose the Caribbean based on its proximity to North America. Once they experience the value, including the convenience, the chance to visit several destinations and all the amenities of the ship, they are much more comfortable going to Europe. Barcelona and Rome are particularly popular choices as cruise destinations – not only when compared to other European cities but as top cruise destinations around the globe," added Schiffner.
Precise booking data from Cruise Holidays shows that the average cost of a Mediterranean 12-day itinerary has steadily dropped since 2009. In fact, cost per day across all stateroom categories in The Med has fallen, on average, to $222 a person – down from $262 in 2010 and $290 in 2009. Average pricing in the Caribbean also continues to trend lower. Alaska pricing has risen from 2010, but is still lower than 2009.
Working with a cruise consultant also adds to the value of planning cruises. According to the Cruise Holidays survey, while price is important, the right itinerary actually ranks as the highest determining factor in choosing a specific cruise. "For that reason, our clients value our experts' opinions on which destinations they may want to include. You could sift through hundreds and hundreds of novice opinions on the Internet, which we certainly recognize does happen, but when it comes to making the final decision our clients feel safest making the booking through a real person," added Schiffner.
Cruise line incentives, sometimes more easily available through travel agents or cruise consultants such as Cruise Holidays, also help sweeten the pot for travelers. When asked which incentives offered by the cruise lines are most attractive to their clients, the Cruise Holidays experts provided these rankings:
1. Onboard credits 38.5%
2. Free air offers 19.6%
3. 2 for 1 pricing 18.9%
4. Early booking discounts 11.2%
5. Onboard amenities, such as a bottle of wine,
complimentary dining in a specialty restaurant, etc. 5.6%
6. 3rd or 4th person sails free 4.9%
7. Other (please specify) 1.4%
Although cruise values are anticipated to remain strong throughout 2011, Cruise Holidays experts also noted the booking window (time between cruise is booked and when the ship sails) began to increase in 2010. The percentage of people who booked their 2010 cruise more than six months prior to the cruise increased to 48.5%, compared to only 40.5% in 2009. "The lesson here is simple," commented Schiffner. "We advise booking early so you get the choice of itinerary, ship and accommodations that you desire."
*Cruise Holidays cruise consultants were surveyed between January 3 and January 17, 2011.
###