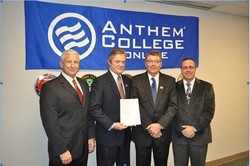 Phoenix, AZ (PRWEB) February 1, 2011
Anthem College Online signed a Memorandum of Understanding (MOU) with the Arizona Veterans' Education Foundation pledging to support the Arizona Veterans Supportive Campus Initiative. The Initiative calls for colleges to adopt best practices to support veterans returning to school, and their families.
The Initiative came from a grant from the Arizona Veterans Donation Fund as administered by the Arizona Department of Veterans Services to the Arizona Veterans' Education Foundation to assess the higher education needs of returning veterans. Veterans were experiencing retention and graduation rates as low as three percent. The Foundation's report recommended that Arizona colleges could raise these rates by adopting the Supportive Education for Returning Veterans (SERV) and Veterans Education and Transition Services (VETS) models currently offered by the University of Arizona.
Using Best Practices from each model and veteran support service recommendations from the American Council on Education, the Veterans Supportive Campus Initiative was created to encourage ground campuses and online colleges to take proactive measures that support student veterans and their families. Campuses that agreed to participate in a pilot project to create a state model would be recognized as an Arizona Veterans Supportive Campus.
A Memorandum of Understanding between the parties to participate in a pilot program was signed January 20, 2011, at the Anthem College Online offices. "We want to do a better job with veterans and active-duty military personnel," said Anthem Education Group President Bill Hillard at the signing. "We are fully committed to this effort." The Anthem pilot project, which begins by the end of this month, will include the following activities:

Incorporate veteran services modeled on the SERV and VETS program, and that follows the ACE definition of a Veteran Supportive Campus. Examples are orientations for veterans only and providing opportunities for veterans to speak about their experiences with classmates.
Identify a student veteran and a faculty or college staff member to actively participate in an Initiative Task Force.
Recommend improvements for the Anthem College Online Veterans program. These improvements could include awarding academic credits for military training or demonstrating the economic benefits of the program.
Provide a one-stop resource center for students who are on active duty or who are veterans, and their families and foster develop of a military/veteran presence within the college.
Establish a branch of Student Veterans of America.
Anthem College Online is a member of the Anthem Education Group family of schools and offers accredited degrees in courses such as online accounting programs, business management courses, criminal justice programs online, and paralegal programs.
# # #