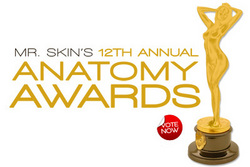 Time to polish your trophy and check out Hollywood's real golden globes
Chicago, IL (PRWEB) February 1, 2011
Mr. Skin of MrSkin.com--the world's #1 resource for celebrity nudity--has announced the nominees for Mr. Skin's 12th annual Anatomy Awards.
While the Academy Awards celebrate the previous year's outstanding achievements in areas such as acting and directing, the Anatomy Awards will pay tribute to the actresses who bared flesh in film and television throughout 2010.
In addition, Mr. Skin has enabled site visitors to vote for their favorites in the top eight categories. Those winners will each receive a special Peepers' Choice Award. Voters themselves will also be eligible to win prizes such as iPads and MrSkin.com memberships.
The top Anatomy Awards categories this year include:
BREAST PICTURE
Piranha 3D
Chloe
Love and Other Drugs
Boogie Woogie
Lake Placid 3D
BEST NUDE TV SHOW
Boardwalk Empire
Gravity
Hung
Weeds
Spartacus: Blood and Sand
BEST CELEBRITY LESBIAN SCENE
Natalie Portman and Mila Kunis in Black Swan
Amanda Seyfried and Julianne Moore in Chloe
Kelly Brook and Riley Steele in Piranha 3D
Elena Anaya and Natasha Yarovenko in Room in Rome
Heather Graham and Jaime Winston in Boogie Woogie
Other categories up for public voting include Best Boobs, Best Full Frontal, Best Butt-Nude, Best Butt-Thong, and Nudecomer of the Year.
"Time to polish your trophy and check out Hollywood's real golden globes," said Mr. Skin from his Chicago headquarters. "The Anatomy Awards is an annual rite of shwing, but this year is special. Not only can the public vote, but some of these babes were naked in 3D … the same size I like my bra-cups!"
Mr. Skin's 12th Annual Anatomy Award winners will be announced in February.
If you'd like more information on this topic and/or to book Mr. Skin for an interview, contact Pete McMurray at (312) 933-5963 or by email at Pete(at)mrskin(dot)com.
About Mr Skin and MrSkin.com
Mr Skin is the world's foremost authority on celebrity nudity. His website - MrSkin.com - is the #1 online resource for celebrity nudity news and reviews. MrSkin.com attracts more than 8 million users every month who come to experience the site's vast library of celebrity nudity material - more than 20,000 actress bios, 30,000 movie and TV show reviews, plus over 200,000 photos and videos. Mr Skin is one of the most sought-after guests in radio and The Mr Skin Minute can be heard every week on The Howard Stern Show. MrSkin.com played a pivotal role in the blockbuster Hollywood comedy Knocked Up (2007). The Mr Skin Skinpire has been profiled in The New York Times, The Wall Street Journal, USA Today, Playboy, Maxim, The Chicago Tribune, The Chicago Sun-Times, and The New York Post. Mr Skin has also appeared as a celebrity nudity expert on VH1, E!, BBC, and Comedy Central. Be sure to follow Mr. Skin on Facebook and Twitter.
###