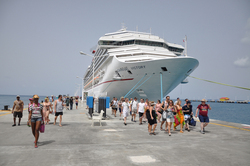 Our guests are sure to make many friends on our all age cruises because most love the wide age range and various personalities in the group and it is great fun getting to know so many different people
Fort Lauderdale, FL (PRWEB) February 2, 2011
Singles in need of a break from the cold winter weather, their jobs, daily routine or perhaps all of the above are invited to join one of SinglesCruise.com's hosted Spring Break singles cruises. The leading singles cruise company is offering a handful of spring cruises geared for a variety of age groups including 20s and 30s, 30s and 40s, over 40 and all ages. The company breaks down what is in store for each age group on the following spring cruises:
30s and 40s Eastern Caribbean Social Cruise – February 26, 2011 (Ft. Lauderdale, Florida):
Introducing their first 30s and 40s cruise this year, SinglesCruise.com aims to connect single professionals looking for a fun way to meet others who love to travel as much as they do. This 8-night singles cruise on the Carnival Freedom® will depart Ft. Lauderdale and sail to the Caribbean hot spots of San Juan, Puerto Rico; St. Thomas, USVI; Antigua, Tortola, BVI; and Nassau, Bahamas. This new spring cruise will offer something for everyone in this laid back group including festive theme nights, ice cream socials, pool parties, and enthusiastic Battle of the Sexes trivia contests.
All Ages Exotic Spring Fling Cruise – March 27, 2011 (Miami, Florida):
Open to any unmarried and carefree single, this 7-night cruise adventure to the exotic Eastern Caribbean will unite singles from across the country. Departing from Miami on March 27, 2011, the Carnival Glory® will visit Nassau, Bahamas; St. Thomas, USVI; San Juan, Puerto Rico; and Grand Turk. Singles will socialize on and off the ship during deck parties, Black and White night, lunch club, walk a mile workouts, lock and key events, "Name that Tune" trivia sessions and snorkeling excursions.
20s and 30s Ultimate Spring Break Odyssey – April 9, 2011 (Cape Canaveral, Florida):
From singles fresh out of college to young professionals making their way in the workforce, this annual 7-night cruise is popular with the young crowd looking for an action-packed warm weather get-away. The energetic singles cruise group will board the Carnival Dream® in Port Canaveral and sail to Nassau, Bahamas; St. Thomas, USVI; and St. Maarten, NA. Unattached travelers can expect to meet and mingle with one another at lively beach parties, karaoke contests, cocktail mixers, and private dance club events, and get their adrenaline pumping together during singles-only zip lining, parasailing and cave tubing adventures.
Over 40 Western Caribbean Spring Cruise – April 23, 2011 (Miami, Florida):
SinglesCruise.com's 7-night journey through the Western Caribbean is a smart choice for singles over 40 who want to meet others in the same boat as them. These spirited cruisers will board the Carnival Liberty® in Miami and sail to Cozumel, Mexico; Grand Cayman, Cayman Islands; and Ocho Rios, Jamaica. From wine tastings to speed meeting, and ballroom dance lessons to 50s theme parties, this singles cruise allows adults over 40 to hang out and socialize with new people in a comfortable and relaxed setting.
"Our guests are sure to make many friends on our all age cruises because most love the wide age range and various personalities in the group and it is great fun getting to know so many different people," explained Shelby Bergeron, SinglesCruise.com's lead cruise director. "While most of the events we organize are great for all ages, we also tailor certain activities based on the specific group we are hosting and know from past experience the 20s and 30s groups typically prefers large, very boisterous parties with today's popular music, while the over 40 crowd tends to favor smaller, more intimate gatherings where they can get to know one another on a personal level."
For a complete list of upcoming 2010 or 2011 sailings with SinglesCruise.com, visit http://www.SinglesCruise.com or call 800-393-5000.
# # #