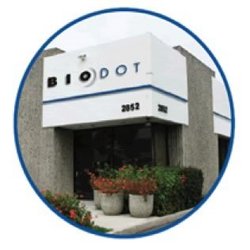 The additional square footage in manufacturing will allow us to increase our manufacturing efficiency, manufacturer larger automated systems to reduce material handling, and continue to expand our service/IQ/OQ offerings - says Tom Tisone, President
Irvine, CA (PRWEB) February 2, 2011
The new facility has approximate 24,000 sq. ft. In addition, the new facility will also allow us to have a larger application lab to continue to work with our customers as well as host our ongoing "hands on" workshops in house.
On February 4, the new address will be:
BioDot Inc.
2852 Alton Street
Irvine, CA 92614
About BioDot Inc.
BioDot is the leading supplier of system tools for the research, development and commercialization of diagnostic tests. Our mission is to enable, inspire and educate scientists to commercialize their R&D ideas through to manufactured product. Using its core competencies in low volume non-contact dispensing, cutting/slitting, lamination, and strip assembly, BioDot has developed a range of equipment for the research and development, and manufacture of rapid tests.
###