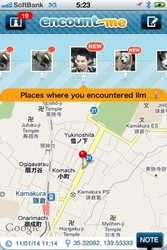 It's all about serendipity experience
Kamakura, Japan (PRWEB) February 14, 2011
Kayac Inc. released "EncountMe" on January 31, 2011, a free iPhone app that can turn chance encounters into entertainment for everyone.
It really is a small world. Every day we pass potentially thousands of other people, missing out on opportunities to learn more about interesting personalities. EncountMe provides a map-style platform for users to harness serendipity and tell each other about themselves via simple profile-sharing functions. Not only is this a great way to broadcast yourself to the world, it is also fun just browsing all the varied folk in your vicinity.
Users can download the app via iTunes, and are then free to create and edit any kind of profile they wish: a social biography with hobbies and interests, or perhaps a professional summary highlighting their business and skills. When someone passes nearby you get a push notification to your phone and can take a look at the latest encounter, leaving comments on people's profiles that pique your interest.
Naturally privacy is a concern and so the makers have installed features that allow you to block designated areas (e.g. your personal neighborhood) and hide from certain other users you do not want to exchange information with.
The slogan for the app is "Discover new joy through encounters". Kayac Inc. President, Daisuke Yanagisawa, explained: "It's all about serendipity experience that we value"
EncountMe is available now via iTunes and is compatible with iPhone3G, iPhone3GS, iPhone4 iOS4 and above, and works using Bluetooth and Push server connectivity.
Android version of the app is already being developed, which will come out soon, together with multilingual packages for both iPhone and Android. Kayac also later plans to introduce "EncountMe Ranking" functions, as well as a system for stores and restaurants to release "EncountMe Coupons" through the app.
To find out more, please visit: http://encountme.com/en/
About Kayac Inc.
Kayac Inc. is a Japanese web and IT agency that works in a unique and playful way. On top of high-profile client work it has also created a large portfolio of self-developed content and products, including online communities, art projects, food businesses and fun phone apps. Several of its games, available through major Japanese platforms such Mobage-town and GREE, have attracted millions of users.
###