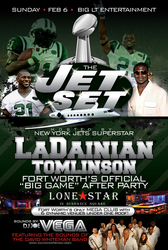 Fort Worth, TX (PRWEB) February 2, 2011
TCU Alumni and NY Jets star running back LaDainian Tomlinson is hosting the AFC Superbowl after party on February 6th, 2011 at the Lone Star at Sundance Square in Fort Worth, TX. The event produced by Big LT Entertainment, Cold Frunt Productions and Tsunami Group Inc, will take place starting from 9pm with red carpet arrivals from 10:30pm-12pm. The Lone Star is located at 425 Commerce Street, Fort Worth, TX., and boasts 22,000 square feet of entertainment with 6 different rooms, multi bars, flat screens and will feature music by DJ Joe Vega and the David Whiteman Band. Each room will feature a different theme, perfect to suit any guest's desires from Top 40 music to the David Whiteman Band covering the full spectrum from the latest hits, Hip hop and R&B to Latin and Dance music.
About LaDainian Tomlinson-
NFL running back LaDainian Tomlinson or LT as he is also referred to is one of the most explosive players to play the game. His college years at TCU showcased his natural talent and ability for the running back position. Leading the NCAA in rushing yards and touchdowns as well as achieving many awards including the Doak Walker Award for best running back and he was also finalist for the Heisman award. With his professional career starting in the West when he was drafted to the San Diego Chargers, he positioned himself again as one of the best in his position. During his eight years as a Charger, LT not only helped his team win games but he was recognized with accolades such as being elected to the Pro Bowl 5 times, 4 Pro Bowl selections, Best NFL Player and Best Record-Breaking Performance at the ESPYs to name a few. Now a New York Jet, LaDainian brought excitement to the Big Apple with his enthusiasm and drive to win. He finished his first year as a Jet with a trip to the AFC Championship game. LaDainian Tomlinson is one of the best running backs in the NFL and will soon be taking his place among the elite that came before him!
###