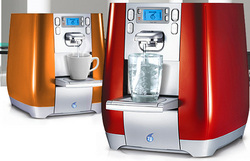 There is no standing by the kettle waiting for it to boil and no need to spend money on bottled water - tap water costs 1p a litre compared to an average price of 73p a litre for bottled water in the UK
(PRWeb UK) February 2, 2011
A space-saving water dispenser designed for small businesses, which combines the traditional kettle with a water cooler dispenser, is being launched into the UK.
The T6 water dispenser sits on a counter-top and delivers filtered boiling hot, hot, ambient and chilled drinking water at the touch of the button. This gives an instant supply, with no waiting for the kettle to boil or for the water to cool.
The T6, named so because its manufacturers believe it will become the sixth indispensable kitchen appliance. It filters water to remove odours and particles of sand, silt, rust and chlorine down to 0.6 micron.
Nick Heane, managing director of Tana Water which is launching the product in the UK, said: "The T6 is neat bit of kit for small businesses and home offices. It not only saves space but we believe it will save businesses time and money as well."
"There is no standing by the kettle waiting for it to boil and no need to spend money on bottled water - tap water costs 1p a litre compared to an average price of 73p a litre for bottled water in the UK."
"People are sometimes put off drinking tap water because it can taste funny – the T6's triple filtration system deals with that and the result is great tasting water without the environmental impact of bottled water."
The T6 has an LCD screen with sleep and standby modes, and comes in 12 different colours to fit any office decor. It is approved under the Water Regulation Advisory Scheme.
For more information about the T6, visit: http://www.t6water.co.uk
Technical specifications:
Dimensions
Height: 35cm
Depth: 35cm
Width: 29cm
Electricity
Voltage: 230V
Heating Consumption: 1800 Watts
Cooling Consumption: 100 Watts
Cooling System
Cold Water Tank Volume: 1.6 litres
Cold Water Output: 40 Cups Per Hour
Cold Water Temperature: 5-16 °C
Heating System
Hot Water Tank Volume: 1.4 Litres
Hot Water Output: 80 Cups Per Hour
Hot Water Temperature: 92-100 °C
About Tana Water:
Tana Water has been a major force in the provision of drinking water systems for over 30 years, and is one of the worlds most advanced developers, and manufacturers of point of use systems. Tana Water UK Ltd is based in Normandy, near Guildford, and is the UK branch of Strauss Water, a world leader in drinking water solutions for businesses and homes.
http://www.tanawater.co.uk.
# # #