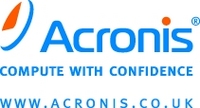 Using Acronis' solutions, we were able to reduce our recovery time objectives very significantly
London, UK (PRWeb UK) February 1, 2011
Acronis, a leading provider of easy-to-use backup, recovery and security solutions for physical, virtual and cloud environments, today announced that just 18 months after launching the Acronis® Backup & Recovery™10 portfolio, it has now been included in the 2010 Magic Quadrant report for Enterprise Disk-Based Backup/Recovery written by Gartner, Inc.
Since its inception in 2002, Acronis has been a leader in backup and recovery in the small and medium business (SMB) sector with its Acronis True Image™ and, more recently, Acronis Backup & Recovery products. Acronis is now finding that enterprise customers have begun using its advanced disk imaging capabilities for disaster recovery as a key element of an overall backup and recovery strategy. An increasing number of enterprises have been using Acronis software for backup and recovery in remote and branch offices, and many enterprises have found that Acronis provides the best backup solution for Linux environments.
These capabilities and customer interest were reasons for Gartner to profile Acronis in the 2010 Magic Quadrant report on Enterprise Backup & Recovery. Enterprises appreciate the recovery speed and rapid system deployment that Acronis delivers for disk imaging and Bare Metal Restore (BMR).
Launched in July, 2009, Acronis Backup & Recovery 10 is a comprehensive portfolio of secure, backup and disaster recovery products for Windows and Linux environments. Organisations of all sizes can simplify and automate backup processes across physical, virtual and cloud environments. Optional software based data deduplication optimises storage capacity and reduces network traffic. After a disaster strikes, Acronis restores servers, workstations and PCs to the same or different hardware or to a virtual machine, providing flexible disaster recovery and migration. Acronis' Universal Restore technology allows businesses to recover a full system image to dissimilar hardware within Windows environments, making cross-platform recovery a snap. The secure, easy-to-use management console makes backup and recovery simple, saving IT administrators time and resources.
"As an organisation that is focused on the SMB market and a relative newcomer to the enterprise market, we are gratified to be included in this enterprise-focused report. We believe the increasing number of enterprises using our technology warranted our inclusion, and this demonstrates that our advanced imaging technology and BMR capabilities can address an important component of an overall enterprise backup and disaster recovery plan," said Jason Donahue, CEO of Acronis.
Donahue continued, "We remain focused first-and-foremost on the SMB market but the product improvements we have been making and continue to develop are increasingly providing the capabilities enterprises are seeking. We believe we can continue to meet the specific needs of our core SMB market even as we progress in addressing key aspects of the enterprise market around virtualisation, integrated application protection, and general disaster recovery and data protection."
The United States' third-largest credit union, Pentagon Federal Credit Union, has nearly one million customers and $14.5 billion in assets, and relies on Acronis for backup and recovery technology. "Using Acronis' solutions, we were able to reduce our recovery time objectives very significantly," said Lance Auman, systems integration manager, at Pentagon Federal Credit Union. "Acronis gives us hardware-agnostic flexibility to restore on any operating system we choose. The combination of recovery speed and reduced technician time allows our IT team to be more proactive with upgrades and customer-facing systems."
In Gartner's July 2010 report: Hype Cycle for Storage Technologies, 2010, Bare Metal Restore is noted as a critical technology. "The need for rapid system recovery is more important than ever, because an entire business model can hinge on a company's servers functioning properly. In the event of a hardware failure, a traditional recovery can take many hours or several days, especially if the new systems are not identical to the ones that went down. BMR dramatically reduces recovery times for servers and can get PCs up and running rapidly."1
Acronis has been a leader of several innovative backup solutions including:

The first instant recovery of VMs for mission-critical environments
The first completely integrated Physical/Virtual, on-Premise and Cloud Backup and Bare Metal Recovery solution
The first solution with Integrated Local/Online for Both Image-based and Agentless Virtual Machine Backup & Recovery
The first cost-effective and high performance software-based deduplication, which includes file/block, source/target flexibility
The first Universal Restore, enabling customers to recover to dissimilar hardware
One of the first vendors to support Physical to Virtual (P2V) migration, and one of the few to offer Physical to Virtual (P2V), Virtual to Physical (V2P), Physical to Physical (P2P) and Virtual to Virtual (V2V) migration in a single application
About the Magic Quadrant
The Magic Quadrant is copyrighted 2010 by Gartner, Inc. and is reused with permission. The Magic Quadrant is a graphical representation of a marketplace at and for a specific time period. It depicts Gartner's analysis of how certain vendors measure against criteria for that marketplace, as defined by Gartner. Gartner does not endorse any vendor, product or service depicted in the Magic Quadrant, and does not advise technology users to select only those vendors placed in the "Leaders" quadrant. The Magic Quadrant is intended solely as a research tool, and is not meant to be a specific guide to action. Gartner disclaims all warranties, express or implied, with respect to this research, including any warranties of merchantability or fitness for a particular purpose.
About Acronis
Acronis is a leading provider of easy-to-use backup, recovery and security solutions for physical, virtual and cloud environments. Its patented disk imaging technology enables corporations, SMBs and consumers to protect their digital assets. With Acronis' disaster recovery, deployment and migration software, users protect their digital information, maintain business continuity and reduce downtime. Acronis software is sold in more than 90 countries and available in 14 languages. For additional information, please visit http://www.acronis.co.uk. Follow Acronis on Twitter: http://twitter.com/acronis.
Acronis®, Acronis® Backup & Recovery™, Acronis® True Image™ and the Acronis logo are registered trademarks or trademarks of Acronis Inc.
1 Hype Cycle for Storage Technologies 2010, July 2010, Gartner Inc.
Press Contacts:
Natasha Simmons/Emily Gallagher,
Touchdown PR,
Tel: +44 (0)1252 717040
Email: acronis(at)touchdownpr(dot)com
Louise Tullin
Acronis UK
Office: +44 (0)203 176 0346
Email: louise(dot)tullin(at)acronis.com
###