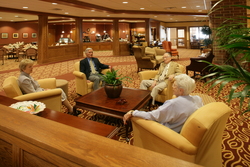 "We provide companionship in pleasant surroundings complete with meals, activities, amentities and a caring attentive staff focused on meeting individual needs." - Barb Voynik, Personal Care Administrator
Cranberry Twp, PA (PRWEB) February 3, 2011
Sherwood Oaks announces a new rate structure for Personal Care services. The new rates are based on a three-tiered plan representing a specific level of personal care. Previously, Sherwood Oaks had one all-inclusive rate of $186 per day. Now, the tiered plan offers basic and minimal supervision for $130 per day, limited assistance for $150 per day and extensive assistance for $186 per day.
"By identifying three specific service levels, we were able to adjust rates on a broader scale. We are glad to be able to make personal care services more affordable. We wanted to do this because residents who don't need a high level of care shouldn't have to pay for it," said Mark Bondi, President and CEO of Sherwood Oaks.
Personal Care at Sherwood Oaks offers private, home-like residences for seniors who are unable to live on their own and want to maintain their independence. Residents include seniors who need help due to a medical condition, post-surgical recovery, diminished physical capacity or for daily geriatric assistance.
"We provide companionship in pleasant surroundings complete with meals, activities, amenities and a caring attentive staff focused on meeting individual needs," said Barb Voynik, RN, and Sherwood Oaks Personal Care Administrator. "Our care and respect for residents is at the heart of all we do."
To determine the appropriate level of care needed, Sherwood Oaks completes an assessment covering an individual's cognition, behavior, mobility, hygiene, eating and specific medical needs. Based on this assessment, one of three levels of personal assistance is determined and costs are assessed at a daily rate for the care level required.
Level 1 – Basic Assistance with minimal supervision: $130/day
The resident is capable of performing Activities of Daily Living (ADL) or, needs cueing and supervision for performing ADLs. Services provided include

24 hour nursing service
Assistance with ordering medical supplies and equipment
Scheduling physician appointments and arranging transportation
Arranging and scheduling medical testing and transportation
Storage and administration of medications
Reminders and supervision for ADLs, including mobility, hygiene, eating and individual medical needs
Level 2 – Limited Assistance: $150/day
The resident requires hands-on assistance with ADLs and services provided include

All services identified in Level 1
Hands-on assistance with ADLs, including mobility, hygiene, eating and medical needs
Level 3 – Extensive Assistance: $186/day
The resident requires maximum assistance with their ADLs and services provided include

All services identified in Levels 1 and 2
Extensive assistance to complete ADLs including mobility, hygiene, eating and individualized medical needs.
Sherwood Oaks Personal Care is staffed with an Administrator, a Care Manager, LPNs, RNs and Med Techs. The department includes 24/7 nursing service and is licensed by the PA Department of Public Welfare.
Sherwood Oaks is a continuing care retirement community for people age 62 and over with patio homes and apartments offering secure, maintenance-free living with fine amenities, activities and programs with on-site assisted living, skilled nursing and memory support care. The mission of Sherwood Oaks is to foster independence, health and wellness, and financial security for residents while preserving a quality and dignity of life in which residents may realize their fullest potential. Sherwood Oaks is part of the University of Pittsburgh Medical Center (UPMC) retirement communities.
The Sherwood Oaks Retirement Community is situated on an 84-acre wooded campus 25 miles north of downtown Pittsburgh in Cranberry Township, Pennsylvania. Visit http://www.sherwood-oaks.com.
MEDIA CONTACT:
Katherine Vojtko, Vice President, Sherwood Oaks Retirement Community
724-776-8100
###