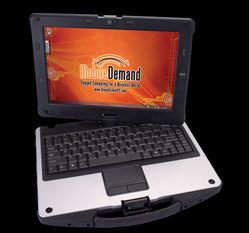 "We have added the xTablet C1200 to fulfill the requirement of some of our customers for a rugged mobile tablet with a full-sized keyboard to enter large amounts of free form data."
Hiawatha, IA (PRWEB) February 3, 2011
MobileDemand, manufacturer of rugged xTablet PCs, introduces the rugged, high-performance xTablet C1200 convertible tablet specifically designed for the always-mobile professional who needs superior connectivity and access to business applications anytime, anywhere. This versatile device quickly and easily transforms from a rugged laptop to a Tablet PC making it ideal for field service (utilities, maintenance and repair, insurance), military, public sector (fire, law enforcement, public safety, and inspections), health care, agriculture, delivery and other mobile applications. The easy-grip handle lets mobile professionals quickly grab it and go.
"We have added the xTablet C1200 to fulfill the requirement of some of our customers for a rugged mobile tablet with a full-sized keyboard to enter large amounts of free form data," said MobileDemand President, Matthew Miller. "This xTablet convertible complements our popular xTablet slate computer line (xTablet T7000 and xTablet T8700) and allows us to serve our current customers better as well as open up new markets," said Miller.
The xTablet C1200 is WLAN and WWAN compatible, offers optional Bluetooth, optional Gobi 2000 radio for 3G communication and GPS. Security features include TPM 1.2 technology, a fingerprint scanner and BIOS administrator password/boot password. The rugged xTablet C1200 with Microsoft Windows 7 Professional is powered by the high performance Intel® Core™ i5 520UM processor with Turbo Boost up to 1.86 GHz and Intel® HM55 chipset with 2GB RAM standard and with up to 8GB of memory. Standard with 64GB-256GB Solid State drive and optional shock mounted spinning drive. It also comes with an Express 34 card slot, SDHC card reader, and I/O ports with USB, e-SATA, serial, audio and smart card reader.
The xTablet C1200 is built tough to handle the bumps, drops and spills of real-world use. It meets MIL-STD 810G requirements and tested to survive drops from a 4' height. A special spill resistant design protects the keyboard, touchpad, speakers, wireless and power switches, and all ports are dust resistant. This unique spill-guard design extends the life of the device by allowing liquids to dissipate through the bottom of the computer reducing the risk of damage. The xTablet C1200 keeps running for 4 hours with a hot-swappable 6-cell Li-Ion battery and runs a full 8 hours with an optional second Polymer battery to enable all-day use and even greater productivity.
The new MobileDemand xTablet C1200 Tablet PC features a large 12.1" (1280x800) convertible TFT backlit touch screen with a sunlight readable display option for optimum viewability indoors, in-vehicle and in the field. It offers keyboard and finger touch data entry as well as signature capture and more precise handwriting recognition. It has a 1.3 mega-pixel camera and a full suite of optional accessories including an office dock, vehicle dock and car adapter.
The xTablet C1200 is available for ordering now with full production in March.
About MobileDemand
MobileDemand is a leading provider of rugged tablet computers used in a variety of industries including Food and Beverage Distribution, Manufacturing, Warehousing, Field Service, Retail, Hospitality, Transportation and Logistics, Agriculture, Utilities, Military and Public Sector. MobileDemand rugged computers provide ultra-mobility and versatility and are built Military rugged to withstand harsh environments. xTablets offer a high resolution sunlight readable touch screen, full Windows 7 OS, and powerful Intel Core Duo processor to deliver higher performance at a lower cost and enable greater efficiency and productivity in the field. Additional information is available at http://www.ruggedtabletpc.com.
# # #