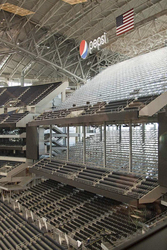 Commack, NY (PRWEB) February 2, 2011
Seating Solutions, for twenty years a leader in the design, sale, rental and installation of custom seating solutions for large-scale events was chosen to design, manufacture, supply, and install additional seating at Cowboys Stadium in time for Super Bowl XLV.
Honoring the Texas tradition of doing everything B-I-G, Cowboys Stadium was unveiled amid great fanfare on June 6th, 2009 as the world's largest domed stadium; amassing 3 million square feet spread over 73 acres, a stunning high definition video screen that sprawls between the 20 yard lines and an approximate seating capacity of 110,000. The largest NFL venue ever built, the stadium also features the most spectacular column-free room in the world, stretching a quarter-mile in length.
Seating Solutions was brought in to address the one remaining obstacle: Designing a floor-based seating solution that would not impact the sight lines of the existing seating. Seating Solutions answered the challenge by designing a modular, custom seating system featuring a variable rise per row and tread depth that allowed the Cowboys to maximize their floor-based seats for temporary events such as the 2010 NBA All-Star game and not one but two Manny Pacquiao championship fights.
Seating Solutions, as the name implies, approaches temporary stadium seating differently than most manufacturers. Scott Suprina, the "Chair-man" of Seating Solutions say's; "Why would a stadium owner want to cover his existing seats with seating he's paying rent on?!" Seating Solutions, after all, is the innovator of basketball floor systems that do not cover existing stadium seats, maximizing the value of the owners existing inventory.
The success of those VIP events enabled Seating Solutions to win an even more illustrious assignment: Designing and installing temporary flip-up seats in the mezzanine levels of both end zones for Super Bowl XLV, to be contested on February 6th, 2011. So when you sit down with your friends to watch the Green Bay Packers battle the Pittsburgh Steelers for the Lombardi Trophy, make sure that you stick around for the halftime show, when you will see a crowd of more people than ever before rocking out to the Black Eyed Peas amid an array of temporary seats custom-installed by Seating Solutions.
###