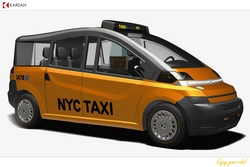 New York, NY (PRWEB) February 1, 2011
KarsanUSA today launched its newly designed website, karsantaxinyc.com, featuring videos of virtual taxi rides through New York City streets, giving viewers a sense of the enormous passenger space, as well as the spectacular views of the City's vertical landscape, through the taxi's modern, panoramic glass roof.
Selected by Mayor Michael R. Bloomberg and Taxi and Limousine Commission (TLC) Chair David Yassky as one of three finalists for New York City's Taxi of Tomorrow, the Karsan V1 taxi's unique features include comfortable seating for four passengers – with great leg room – even more than the classic Checker, a panoramic glass roof and a factory-installed automated ramp providing wheelchair access from the curb directly into the passenger area from either side of the vehicle. If the Karsan V1 is selected, New York City would become the world's first city whose entire taxi fleet is fully accessible and compliant with the landmark Americans with Disabilities Act (ADA).
Videos on the new website give the public the chance to experience traveling in a Karsan taxi beneath the City's skyscrapers and through neighborhoods while looking up through the modern, panoramic glass roof. The site also gives details and specifications about the Karsan taxi and allows for public feedback.
"Launching the new website will give New Yorkers and visitors alike the sense of how it would feel to drive through the City in the Karsan taxi," stated Karsan Executive Director Jan Nahum. "The website demonstrates the enormous space in the passenger cabin, even larger than the classic Checker, and it shows how the factory-installed, automated ramp makes every Karsan taxi wheelchair accessible from the curb on either side. New York's Checker was an iconic symbol of the City for more than three decades. The specially designed Karsan model can once again give New York an iconic taxi that would be instantly recognized around the world."
Karsan, founded in 1966, brings over 40 years of experience as an international multi-branded commercial vehicle producer, providing services to the world's leading brands such as Peugeot, Citroen, Renault Trucks and Hyundai Motor Company.
http://www.youtube.com/watch?v=cd8IK-Bzw1g&feature=player_embedded
###