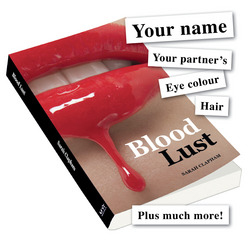 Demand for personalized novels is at an all time high. Publisher, U Star Novels expects to ship over 15,000 books between now and Valentine's Day.
Russellville, KY (PRWEB) February 3, 2011
Award-winning publisher of personalized novels, U Star Novels has come up with a fun way for couples to give something creative and exciting for Valentine's this year… by mad-libbing a mushy romance novel.
Everyone has played the popular Mad Libs game where you're asked for random words which are then used to fill in the blanks on a sheet of paper, creating a hilarious story when read aloud. Well here's a chance to mid lib a romance novel, including the love scenes making a very special, yet fun Valentine's gift.
Even the ordering process is a lot of fun, coming up with hilarious answers about each other from body type to pet names to put into one of nine pre-formatted romance novels. Customers can mad lib the love scenes too and make them sensual, steamy or scorching. There are novels for same-sex couples too.
Choose from Fever in France, Spanish Sizzle, English Encounters and other steamy sounding titles, where the leading couple will be entwined in a love story - perhaps being chased by diamond smugglers in the French Riviera, discovering a hidden tomb in Naples or doing whatever it takes to escape being drawn into the vampire underworld forever in latest erotic title, Blood Lust.
Customers can mid lib their own books up until the 8th February and still get it in time for Valentine's Day.
Publisher, Katie Olver said: "U Star Novels' personalized books make for a fun night in with your Valentine. Simply snuggle up and read aloud this hilarious story filled with all your personal details. It's a fun way to enjoy Valentine's and a keepsake to be enjoyed for many years to come."
U Star Novels also publishes a wide range of romantic classic novels that can be personalized for Valentine's Day as well. Loved ones can step into leading roles in classic romantic novels, starring as Mr Darcy or Elizabeth Bennet in personalized Pride & Prejudice, or step into the most famous love story of all time as Romeo & Juliet. There are over 20 personalized classic novels to choose from.
Valentine's Day is the busiest trading period for the company, who is experiencing 300% year on year growth. After a very busy Christmas, the demand for personalized romance novels is at an all time high and publisher, U Star Novels expects to ship over 15,000 books between now and Valentine's Day from printers in US, UK & Australia.
Books can be purchased from U Star Novels
Prices start from $24.95 for our classic novels and $34.95 for the romance novels.
For images or a free samples, please contact:
Katie Olver
U Star Novels
E: kolver(at)ustarnovels(dot)com
# # #