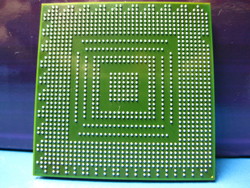 Hoopsick stated... The Sony PS3 Yellow light of death YLOD and Red blinking light issue only has one repair solution… ReBalling the RSX-GPU. Any other repair attempt is only prolonging your agony.
Philipsburg, PA (PRWEB) February 3, 2011
The most common of the many problems is the YLOD, Red Blinking light, No video and Video Pixilation. The only repair solution is to replace or ReBall the RSX-GPU.
There are dozens of repair shops that work on the Sony PS3 units, but they are not ReBalling the RSX-GPU, they are reflowing the board in an infrared oven or simply heating the chip. This is a band-aid covering the real problem and will never be reliable. The Solder balls under the chip must be removed and replaced with new. The chip can then be soldered back onto it's host motherboard. This is a very delicate and time-consuming process that takes specialized equipment and weeks of technical training for even the most seasoned veteran.
PSR, Inc. has been repairing hi-tech electronic products for more than 22 years. Under Hoopsick's leadership, the company has grown into a nationally recognized and respected powerhouse orchestrating service in the consumer electronics industry. PSR provides depot repair services for several third-party warranty providers, manufacturers, distributors and eCommerce businesses as well as the general public. The company also provides particular clients with asset recovery and liquidation services as needed.
Hoopsick takes an active role in the company's day to day operations. His knowledge and experience has made PSR a one-of-a-kind repair depot that consistently blends cutting-edge technology with superior service. His dedication to identifying opportunities and implementing business models has made PSR a leader in the service industry.
###