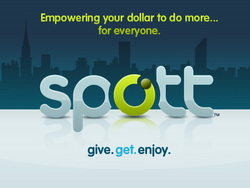 Donations are dependent upon a sliding scale system that allows for higher donations with increased purchases
San Diego, CA (PRWEB) February 15, 2011
Spott.com, a new daily deal site, is set to donate up to 50 percent of its proceeds to sponsored charities. The site, launching this month in San Diego and Los Angeles, CA, leads the future of online group-buying by allowing customers and businesses to effortlessly give back to their community
While many group-buying sites already successfully unite merchant with customer through daily deals that are only possible when a specified number of people sign up and purchase, Spott realized the importance of adding a third partner to the mix: charities.
Coining the term "group-giving," Spott will automatically donate up to 50 percent of its proceeds to sponsored charities. The actual amount they donate is dependent upon a unique sliding scale system that allows for higher donations with increased purchases.
"This is a 'we all win' situation and a local economic booster," says Spott CEO Maximilian Schwarz. "Through group-giving, we work as a team to get the deal, and now we also get to simultaneously improve our community. We want people to realize how important they are and the power they have to make an impact, especially when they come together."
As summarized through its "Give.Get.Enjoy." tagline, giving happens on all levels with Spott, whether it's giving customers an experience, giving merchants more traffic, or giving charities more support. Spott's sole purpose is to bring every part of the community together to create positive change.
About Spott
Spott is a daily deal site offering discounts of up to 90% off local entertainment, services and restaurants. Spott is committed to helping unite and build communities through the common thread of giving while boosting local business. Learn more by visiting our website (http://www.Spott.com) or follow us on Facebook (facebook.com/spottdeals) or on Twitter (twitter.com/spottdeals.)
For more information on how to sign up and donate to charities, please contact: ploy(at)spott(dot)com
###