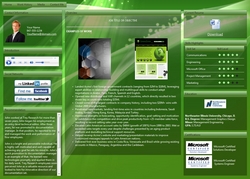 It's like Facebook for my resume
Lake Zurich, IL (PRWEB) February 3, 2011
clickResume today announced the release of clickResume.com to the general public. clickResume is a unique Internet-based resume experience and is the first to offer a complete Content Management portal to showcase skillsets using video, audio, graphics, and pictures.
clickResume enables job seekers to demonstrate their skills and experiences in a way that a traditional resume falls short. Video and audio can demonstrate presentation and communication skills; pictures can show product involvement, give visualization to project scale, or lend additional credibility to performance claims. "There's nothing like this" says Eddie Fernandez, an established Hollywood stuntman that has appeared in over 300 films, "Everything is in one place, my demo reels, portfolio pictures, and filmography. I'm not a technology guy, so I really appreciate the easy user interface; I no longer have to pay someone and wait days or weeks to see my site updated, I can do it myself. It's like Facebook for my resume."
"We are receiving similar feedback from all of our early users" according to James Edgell, President and founder of clickResume. "The simple user interface enables non-technical people to create a very attractive and comprehensive portfolio site. With many customizable themes to choose from, job seekers can design a truly unique resume experience. If you can use a word processor and a mouse, you can create an impressive web based clickResume in minutes."
Since clickResume provides unlimited web pages with a dynamic menu system, users are not forced to cram everything onto a single web page as with other sites. With menu navigation, reviewers can drill down through a 30 page site without being overwhelmed, as in the case of a 10 page resume or a single webpage that scrolls on and on. Now job seekers can showcase all of their experience. Another advantage of clickResume is the absence of advertising banners and product branding because clickResume's revenue comes from a contract free, low monthly rate of $5.99. "One site we have seen takes the top two inches of each page to brand their product name on your resume" according to Edgell "That's prime 'first impression' space. We understand the importance of getting you noticed so we decided not to brand our customer's resume."
"My favorite feature is the real-time log files", says Gina Yi, a Marketing Management professional "I can see what pages people have viewed and if they actually retrieved my Word resume. Recently I had a phone screen with a recruiter that I didn't get a good vibe from, I thought of canceling the follow-up interview; but after I reviewed the logs, I could see that several people from the hiring company looked over my entire clickResume site and downloaded my latest resume. I could tell that they were serious and it changed my enthusiasm for the interview; I got the Job!"
Edgell conceived the idea after personally reviewing hundreds of executive resumes, "although the applicants were well qualified and the resumes were professionally written, none of the applicants stood out." Edgell asked himself, how he would differentiate himself if he were looking for work in this economy, "I would market myself like a business; today businesses don't rely on yellow page ads and mailers, they engage web marketing." Edgell researched the available sites such as LinkedIn, Monster, and Facebook and discovered that these sites all had limitations or shortcomings as with any cookie-cutter resume experience. Edgell knew he would have to design something unique, dynamic, and new; clickResume was born.
clickResume provides a personalized website address to each user, this address can be placed in the header of a traditional resume or entered in on-line social profiles to showcase video, audio, and pictures of your work examples when employers visit to retrieve your latest resume. Another advantage of a personalized address is that a job seeker can create multiple targeted versions of resumes for different job types and levels, while directing readers to the clickResume site to download a more comprehensive resume. "I've observed one of our users print his clickResume address on business cards to hand directly to prospective employers at an opportune moment" Edgell explains "Now that's innovative and the shortest effective resume I have ever seen."
Edgell also cites other advantages of controlling the online evaluation process, "Let's face it, employers are searching for you on Google, Facebook, and other sites to gain insight to the type of person they are potentially hiring" according to Edgell "If you are John Doe, you want the employer to find the correct Facebook profile for the 'professional' John Doe and not the profile of a John Doe of the same name; one with a questionable lifestyle proudly displayed on his social site. clickResume allows you to take control of that discovery process by directing reviewers to the correct social network profiles."
It's a very competitive landscape today, resumes, Facebook, Twitter, and LinkedIn are used by virtually everyone and offer little to differentiate a candidate. Those devices limit the amount of information and ways in which it can be presented; clickResume doesn't have these limitations and provide a distinct advantage over candidates that are not using it. Simply having a clickResume site demonstrates grasp of a new technology that is fresh and that alone may be enough to gain the attention of a prospective employer.
clickResume is privately funded and is a subsidiary of SoftEXIT. For more information about clickResume visit clickresume.com.
###