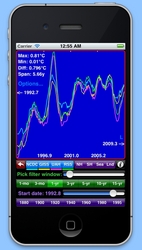 It is imperative that citizens be able to test the claims made about climate in order to stop misleading, politically driven policy
Pasadena, CA (PRWEB) February 3, 2011
GeoOptics, Inc. GeoOptics today announced the Climate Mobile 1.2 iPhone and iPad app is now available for free to environmental enthusiasts and citizen scientists alike. Climate Mobile 1.2 arms every citizen with the authentic measurements and necessary analysis tools to keep tabs on scientists and their government, to keep them honest and respond quickly to misleading claims about Earth's changing climate.
"It is imperative that citizens be able to test the claims made about climate in order to stop misleading, politically driven policy," said Tom Yunck, Founder and President, GeoOptics. "The Climate Mobile 1.2 app allows citizens to look at the actual data used to justify scientific claims and evaluate their veracity. For example, NOAA recently announced that 2010 tied 2005 as the warmest year ever. There are good reasons to question that. Climate Mobile allows users in a matter of seconds to see precisely what the NOAA data actually show--to get straight to the truth."
Climate Mobile 1.2 allows government claims to be quickly dissected with the built-in Personal Climate Analyzer. The Analyzer enables everyday citizens, for the first time, to check the truth of official pronouncements on global warming and challenge them with facts in hand: the actual satellite and surface temperature data used by scientists. Built-in sample analyses take the user step-by-step through the process of conducting different climate studies. Results can be sent instantly around the world.
The Climate Mobile 1.2 is available for free at the App Store and through iTunes.
###