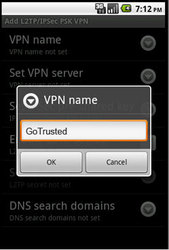 Considering the power of the Android phones, users should really treat them like mini-laptops...
Stuart, FL (PRWEB) February 2, 2011
GoTrusted.com launched a new Internet security VPN service for the Android line of mobile phones and devices. The new GoTrusted VPN (Virtual Private Networking) service encrypts data communication from the Android over the local Wi-Fi network and also provides protection for the device from other malicious Wi-Fi users.
"GoTrusted is excited to announce our new Internet security service tailored for Android phone and tablet users," said David Lonardo, President of GoTrusted. "The Android market is expanding at light speed, unfortunately that leaves a ripe target for Internet hackers to exploit. Using GoTrusted's VPN Service for Android closes that security hole in these very capable Internet devices when out using Wi-Fi."
In addition to the encryption and network protection layer, the GoTrusted VPN service for Android removes Internet filters for blocked websites like Facebook or YouTube, or services like Twitter, for example, when browsing on the 'Droid device. Thus, freely allowing access to Internet content by GoTrusted users when traveling to locations or regions where it may be blocked.
"Considering the power of the Android phones, users should really treat them like mini-laptops and secure them as you would a computer. Using a VPN account with GoTrusted, that is set up in about a minute, goes a long way toward that end," continued Lonardo.
GoTrusted is offering the VPN service with a 7-Day free trial, and $5.99 per month thereafter. Users also get usage of the same account to secure their laptop at no extra charge.
To obtain more information about GoTrusted or GoTrusted Secure Tunnel, email press(at)gotrusted(dot)com or visit http://www.GoTrusted.com.
About GoTrusted
GoTrusted's mission is to provide easy-to-use and accessible encryption methods to the general public and business. We fill the need for privacy, security and availability to end-users who connect to the Internet by using a third-party's WiFi 'hotspot' (such as airports, hotels and cafes) or wired connection. We do this without encumbering the customer with the complexities of the back-end database, authentication, networking and encryption infrastructure – keeping high level security simple to use. GoTrusted.com uses high-speed, physically secure and HIPAA compliant site connections to the Internet to terminate our secure Internet sessions.
GoTrusted is a privately held company headquartered in Florida, USA. If you would like to find out more about GoTrusted contact press(at)gotrusted(dot)com.
Android is trademark of Google Inc. Wi-Fi is a trademark of the Wi-Fi Alliance. Facebook and YouTube are marks of their respective companies.
# # #