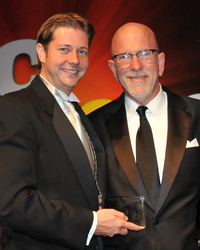 The leaders of the companies on this year's Inc. 5000 have figured out how to grow their businesses during the longest recession since the Great Depression
Mooresville, NC (PRWEB) February 3, 2011
Utilipath, LLC, was named to the Inc. 5000 list of the fastest-growing private companies in America for 2010. Utilipath differentiated itself from the other 27 million companies registered in the U. S. that did not make the list by achieving 112% sales growth over three years. Past members of the Inc. 5000 include Microsoft, Timberland, Visa, Intuit, Oracle, and Zappos.com.
Utilipath's founder, Lindon Hayes, received the award in Washington, D. C. from Inc. Magazine's President, Bob LaPointe. "The leaders of the companies on this year's Inc. 5000 have figured out how to grow their businesses during the longest recession since the Great Depression," said Bob LaPointe. "The 2010 Inc. 5000 showcases a particularly hardy group of entrepreneurs."
In order to meet growth targets Utilipath expanded into new geographies, captured additional customers, grew relationships with existing customers, and developed new lines of business. Moreover, the company invested in the technical expertise, infrastructure, and other systems necessary to enable growth.
"We began our first series of international projects this year and have completed engagements in 45 states over our relatively short history, "remarked Lindon. "CATV service providers, data centers, equipment manufacturers, global integrators, wireless, and professional services appear to be our biggest growth drivers for the near term."
When asked about the outlook, Lindon responded: "We expect a tepid year for economic growth in 2011. Nevertheless, we've never been more optimistic about our company's potential than we are at this moment. Because we have no debt, we've been able to make investments in our future where other companies have struggled with deteriorating industry fundamentals and tight credit markets."
From the data center to the desktop . . . from the central office to the customer premise . . . from the head end to the home . . . Utilipath designs and deploys end-to-end technology solutions for service provider and enterprise networks.
# # #