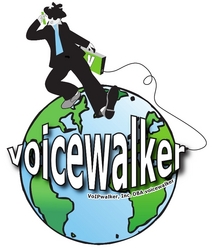 With VoiceWalker's Digital Voice Advantage Service, Disaster Recovery is a breeze!
Woodridge, IL (PRWEB) February 3, 2011
According to Steve Barnett, Vice President of Chicago area based VoiceWalker, "The headquarters office that houses technical support and customer service staff will be closed due to inclement weather."
However, because the headquarters office uses VoiceWalker's Digital Voice Advantage Hosted Phone Service, the entire office is working remotely and there should be no change in service. The office should re-open Thursday."
Mr. Barnett further states, "the remote capabilities of VoiceWalker phones allows employees to function from home as if they were working from their office desks. When combined with VoiceWalker's remote desktop product, DeskWalker, which is currently in final beta testing, the service provided to customers need not be affected by mother nature or other disasters. In addition, "with VoiceWalker's Hosted Phone Service, disasters like the current blizzard covering 2,100 miles of the country can be handled seamlessly provided customers take advantage of the capabilities delivered with the product." Even in case of fire VoiceWalker can overnight phones to customers that can simply be plugged in to an internet connection and be up and running within 3-minutes of delivery. No 'install technician's' or 'schedules' to coordinate, and most importantly, no costly service fees.
Because VoiceWalker's service is delivered via any Internet connection, its employees, Digital Voice Advantage customers, or any DeskWalker remote desktop users would have access to 100% of their data, as well as voice service, from anywhere there is an internet connection, and be completely functional.
Mr. Barnett says "it's hard to believe that any business would not be eager to at least look into how this technology can impact their business. Not only does VoiceWalker deliver the capabilities mentioned, but in many cases, customers save as much as 45%, every month, compared to their existing service!"
For a free analysis and evaluation of how you can benefit from VoiceWalker's Digital Voice Advantage suite of IP based Phone Systems and its Remote Desktop product, feel free to email them at info(at)voicewalker.net. You can also call us at 877-799-3315.
# # #