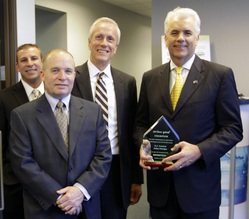 It was an honor to host Senator Ensign and illustrate the potential for creating good jobs through a strong domestic e-waste management industry.
Columbus, OH (PRWEB) February 3, 2011
Redemtech, a world leader in IT asset disposition and Technology Change Management (TCM), hosted a tour for United States Senator John Ensign at the company's Reno TCM Center. The visit provided an opportunity for Senator Ensign to learn about the company's state-of-the-art processes for reducing electronic waste (e-waste), extending the life of electronics through refurbishment and reuse, and sanitizing sensitive hard drive data for Global 1000 clients as well as federal, state and local agencies.
"It was an honor to host Senator Ensign and illustrate the potential for creating good jobs through a strong domestic e-waste management industry," said Redemtech President Robert Houghton. "For many years, e-waste recyclers have engaged in illicit exports that off-shore jobs and send reusable equipment and precious raw materials overseas while creating horrific environmental problems in the developing world. Our Reno facility is part of the solution – and an example of the infrastructure needed in the U.S."
Redemtech's Reno TCM Center supports comprehensive IT asset management (ITAM) services for the company's clients in the Western United States. The facility opened in January 2004 with 28 employees on a single shift and employment has since more than tripled. Today, 88 employees provide refurbishment, recycling and other services on three shifts in an expanded, renovated facility.
"Diversifying Nevada's economy is important to economic stability. Redemtech is a great example of how new, innovative businesses can create jobs in our state while providing sustainable products and services," said Senator Ensign. "I am happy that Redemtech, a leader in the domestic e-waste management industry, can call Nevada home. I know we will see this great company continue to grow and hopefully become an example to other high tech companies looking for a new place to settle down and expand their operations."
To promote the growth of a robust, job-creating IT asset disposition industry in the U.S., Congress must act to stop e-waste exports, and incent the development of a robust domestic e-waste management infrastructure, Houghton added. The Responsible Electronics Recycling Act, currently pending in the U.S. House of Representatives, would ban most exports. "While most companies want to do the right thing and ensure truly responsible recycling of their e-waste, legislation is needed to stop exports that undermine efforts to develop a truly sustainable domestic electronics recycling industry," said Houghton, who offers additional insights in a new blog post, "Redemtech to China: Outsource This!"
Domestic recycling and refurbishing also protects the environment, Houghton noted. The Reno TCM Center has enabled Redemtech to generate measurable environmental benefits for its clients. The facility has processed nearly 2.5 million IT assets for reuse or recycling. The environmental benefits, based on calculations from the U.S. EPA, include:

Energy savings sufficient to power more than 350,000 homes for one year; and
Greenhouse gas reduction equivalent to removing over 93,000 cars from the road for a year.
"Our Reno TCM Center is an important part of our expanding international network of facilities that support our customers in the private and public sectors, where demand for these services is growing rapidly," said Houghton. "Based on a recent report by Gartner we are well positioned at the forefront of the fast-growing IT asset disposition industry and offer businesses and government agencies best practices that balance financial, social and environmental goals."
After more than a decade developing its innovative TCM services primarily for the private sector, Redemtech recently expanded its offerings to government agencies. As the only e-Stewards® Certified Recycler on the GSA schedule, Redemtech is uniquely qualified to ensure the industry's highest standards of sustainability, social responsibility and data security for government agencies. Redemtech launched its government services in November 2010.
"Over the past decade, large businesses have recognized the benefits of comprehensive IT asset management programs, and government agencies are now at the early stages of adoption," said Redemtech Executive Vice President Jill Vaské. "We can offer government agencies the same benefits we have been delivering for our corporate clients – an approach to TCM that supports true sustainability.
A Shared Commitment to Closing the Digital Divide
Senator Ensign's visit also highlighted Redemtech's approach to refurbishing used computers for reuse by businesses and donation to low-income families, nonprofits and schools as part of the company's Serious Good™ initiative. The company recognized Senator Ensign for his commitment to improving technology access for all Americans as the lead Republican cosponsor of the 21st Century Communications and Video Accessibility Act of 2010, which helps people with disabilities access the Internet and other advanced communications technologies. The law was unanimously approved by the Senate and signed into law in October 2010.
"I have long been an advocate of expanding Internet access to all people. We live in a technological world and before the 21st Century Communications and Video Accessibility Act of 2010 was passed, the fast-paced evolution of the Internet was leaving those with disabilities behind," said Senator Ensign. "Redemtech's Serious Good initiative is following the same foot by extending their services to people throughout Nevada who would otherwise not have the necessary tools for accessing the Internet. I applaud Redemtech for their effort to help Nevadans who have been hurt by this economic downturn and hope it will help our state move forward."
The legislation's focus on expanding technology access for all aligns with the goals of Redemtech's Serious Good initiative that brings together corporations, nonprofit partners and the community to foster donations of refurbished PCs to address the Digital Divide – the rapidly growing gap between citizens with PCs and Internet access and those without. Serious Good launched in December 2010 with Habitat for Humanity International as one of the first national partners to benefit from the donations. For more information, read Jill Vaské's new blog post, "Senator's 'Serious Good' Efforts to Help Bridge the Digital Divide."
"Senator Ensign shares our passion for helping people access technology so they can gain equal footing in school and on the job while participating more fully as citizens," said Houghton. "Addressing digital exclusion is an important issue for helping people participate more fully in our society, and we thank him for his leadership."
About Redemtech
Redemtech Technology Change Management (TCM) services help organizations increase IT asset utilization and assure regulatory compliance during technology transitions. Redemtech provides an outsourced solution to TCM that uses best practices and automated technologies to implement and manage processes for deploying, redeploying and decommissioning computer systems. Redemtech clients can realize a 40 to 70 percent reduction in asset recovery and disposition costs, while achieving 100 percent warranted data security and environmental compliance assurance. Redemtech is a wholly owned subsidiary of Micro Electronics, one of the largest privately held technology companies in the United States. For more information on Redemtech visit http://www.redemtech.com.
###