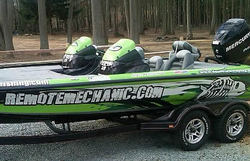 Fish as hard as you want!
Street, MD (PRWEB) February 7, 2011
Professional Bass Angler John H. Hansen III just came back from the 1st 2011 BassMaster Tournament of the year. The tournament was January 20-22, 2011 on Lake Tohopekaliga in Kissimmee, Florida. He competed against elite anglers such as Roland Martin, Bobby Lane and Ott Devoe. In a field of 197 boats, John placed 65th. John's next tournament is March 24-26, 2011 on Lake Norman in Cornelius, North Carolina.
This will be John's second season competing as a professional angler. He started out in 2009 when he joined a local fishing club, The Chesapeake Bass Anglers. He placed 2nd for the club season and was eager to take it to the next level. In 2010, he joined the Maryland Bass Federation as a semi-pro and placed 9th for the season. He also entered his first professional BassMaster tournament in 2010 on the Chesapeake Bay in Northeast, Maryland.
John is proud to represent his current sponsors:

Mobile Auto Service (http://www.remotemechanic.com) - A full service mechanic facility.
Amsoil (amsoil.com) - The leader in synthetic motor oil.
Healthbridge Chiropractic (drmenges.com) - One of the top chiropractic facilities in MD.
Man Venture Outpost (manventureoutpost.com) - The go-to place for outdoor activities.
Deadfish Company (http://www.deadfishcompany.com) - Fishing apparel and tackle.
Powell Rods (powellco.com) – Check out their new line - Endurance Rods.
Doc Irv Custom Baits (docirvcustombaits.com) - Custom lure manufacturer.
RMC Boatworks (rmcboatworks.com) – Home of the Trol-lok.
He is always interested in representing other businesses and products as well. If you would like to become a sponsor, please visit our sponsors' page at http://www.HansenFishing.com .
Keep up with John on his website at http://www.HansenFishing.com. He updates it regularly with his standings, progress, fishing tips, upcoming events, photos, videos, blogs and much more. There is even a link to his facebook page.
###