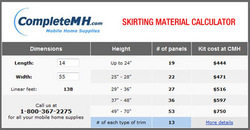 Just delivering on our promise of helping mobile home owners
Pearl, MS (PRWEB) February 3, 2011
Shopping for vinyl skirting typically creates a laundry list of questions and a high level of confusion. How much skirting do I need? How do the materials arrive? How much is this all going to cost me? For years these questions have plagued mobile home owners who, even if they do get an answer, must wonder if it's right. However, with Complete Mobile Home Supply's newly integrated Mobile Home Skirting Calculator, the materials list is clearly and accurately displayed. They also have mobile home skirting kits ready to ship with all the materials homeowners need to put up skirting themselves or have waiting for a professional installer.
Selecting the right type of vinyl skirting to use in the past involved a pretty high level of familiarity with a mobile home hardware store. Homeowners could get bogged down by the industry-speak and installation methods, in some cases giving up on the process entirely. CompleteMH.com takes the confusion out of the purchase. The types of pieces used when putting new vinyl skirting on your home include vinyl skirting panels, trim pieces, and hardware.

Skirting panels come in 12' lengths. Cut to size as you install.
Three types of trim help appearance and keep panels in place. Top Back is secured directly into the base of your mobile home with screws. Ground Channel lays on the ground, is secured with 7" stakes, and provides the base in which the skirting panels sit. Top Front interlocks with the Top Back, trapping the panels between the two types of trim and holding the panels in place.
Hardware for installation include 1" screws and 7" spikes. The screws hold up the Top Back, the spikes hold down the Ground Track.
With just the dimensions and height from ground to base of your trailer, you can order mobile home skirting kits online using the CompleteMH.com Mobile Home Skirting Calculator, then await the materials to arrive at your door. "We're really just delivering on our promise of helping mobile home owners," says Director Jotham McCauley. "We answer the question about amount of skirting material for customers repeatedly every day. This tool gives online shoppers a way to get the answer any time of day or night." He further states that everything the business does is a function of providing solutions to homeowners. They focus on remaining knowledgeable in all things mobile home related, making sure the online store is ready to meet the needs of anyone anywhere, sending each tub faucet and door lock out promptly and, as in this case, providing a service that is both informative and easy to use.
Once you've reached the Mobile Home Skirting Calculator, simply type in the length and width of your mobile home in the spaces provided. The skirting calculator automatically produces results for different height options. The calculator will give you the number of panels you need, as well as the cost. No more complicated charts, over-estimates or guesswork. Mobile home parts for improvement projects or any item made for manufactured housing can be found in the giant warehouse of CompleteMH.com.
###