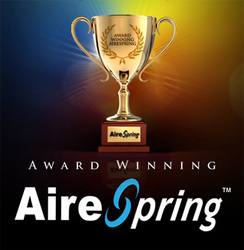 AireSpring has consistently been one of the carriers that wins the greatest number of awards
Los Angeles, CA (PRWEB) February 2, 2011
SIP Trunking leader, AireSpring, has been awarded a most ever nine Telecom Association awards for outstanding products and services. The Telecom Association, a national professional membership organization of over 3,200 Telecom industry professionals voted AireSpring the top provider for "SIP Trunking VoIP," "Integrated Access," "Multi-Location Services," "Wholesale Carrier" and "CLEC." In addition, AireSpring placed as a top five telecom "Carrier" in the nation as well as "Reseller," "Audio Conferencing" and a top ten finish in "Data & Internet". The total of 9 awards cements AireSpring as the top next generation Carrier and managed services provider for Local, Long Distance, and Data products.
"Winning TA's annual Members' Choice award is a significant tribute to each winner's product and customer service Programs," stated Telecom Association Founder Dan Baldwin. "For the five years that TA has conducted its Members Choice awards, AireSpring has consistently been one of the carriers that wins the greatest number of awards. They are focused on what their business customers want - high quality at the best price. And they stay ahead of the curve, rolling out the voice and data network services that will be in highest demand when they are needed most."
"AireSpring is thrilled to be recognized by the members of the Telecom Association for our achievements in IP communications and as a Carrier and Reseller of aggressively priced and cutting edge voice and data products," stated Daniel Lonstein AireSpring COO. "We strive to provide our partners and customers with the products they need at affordable rates. We are moved and inspired by the many awards and accolades we are receiving for our current product line and remain committed to innovating the future of telecommunications with the cutting edge services that business and enterprise customers need to operate in today's increasingly complex business environment."
AireSpring's Voice, Data, and Integrated products are continually recognized by customers and partners as robust, flexible, and affordable. Over the past several years, AireSpring has earned its reputation as the most highly awarded IP communications company. AireSpring consistently offers lowest cost High Speed Internet, Voice, and SIP Trunking services utilizing an award winning next generation enhanced IP network.
Telecom Agents, Resellers, Consultants and customers looking for more information about AireSpring's products and/or partner programs should visit AireSpring.com.
About AireSpring
Headquartered in Los Angeles, award winning AireSpring is one of the fastest growing telecommunications carriers in the USA, with over 4 billion call records processed every year. AireSpring is a privately held, diversified, debt-free, and full service communications company which offers a broad range of innovative telecommunications services at competitive rates.
AireSpring offers next-generation voice, data, integrated, SIP/VoIP, and conferencing products designed to deliver power and flexibility at cost-effective rates. AireSpring has been voted, a "Product of the Year," "Best Telecom Deal," "Members Choice top reseller," "Top SIP Trunking Provider," and "Top Channel Program" in recent years. Telecom agents and Value Added Resellers can find more information about AireSpring's Agent/VAR program at the AireSpring Partner Contact Page, or by contacting Todd Regan at (800) 825-1055, ext 374.
# # #