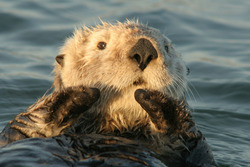 "A great little town where you can truly escape and relax. Casual setting with wonderful food and stunning sunsets on the beach" --Eric from Oakland, CA
Moss Landing, CA (PRWEB) February 3, 2011
Escape the big town hustle and bustle for a small town where you can park the car and not get back in. Walk to the beach for sand dollars, beach sunsets, wine tasting room, fine seafood dining, quaint cafes, galleries, antique shops, wildlife boat tours for sea otters or whales.
Beach and Bubbles:
When you stay in Moss Landing for Friday before Valentines, you can enjoy tasting several varieties of sparkling champagne at our local tasting room, free of charge. No worries for driving: you can walk to the Whole Enchilada Marketplace tasting room for champagne from 5 to 7pm, Feb 11, 2011. On Highway One, 831-632-2628 ask for Carol
Ciopinno for Two:
Go to Phil's Fish Market and Eatery to have his Food Network famous Ciopinno in a large bowl shared by two. You and your sweetheart will enjoy fresh crab, perfect oysters, calamari and chunks of fresh caught fish fillets with local fines wines. Everyday, 7600 Sandholt Rd. 831-633-2152, ask for Phil
http://www.philsfishmarket.com
Valentines Cruise: Sea Otter Watching Special
Here is an affordable cruise for you to share with loved ones of all ages. Take them to see sea otters, seals, and thousands of birds on the stable ride in the wetlands. This fully guided trip is coast guard certified. Feb 11 to 14, times vary each day, Moss Landing Harbor, 831-633-5555, ask for Captain
http://www.elkhornslough.com
Shakespearean Romeo and Juliet Event:
The Shakespeare Society in Moss Landing, CA, is holding a gala titled "Knight Out to Love Shakespeare" on Feb 15. There will be vignette performances in costume, music from the romantic age, and appetizers served. Feb 12, 2011, 6 to 9pm
7981 Moss Landing Road, 831-633-2989, ask for Terry http://www.shakespearesocietyofamerica.com.
Valentine Parking Lot Sale:
Love is in the air at Stella Page Design, and we want to share it with you by inviting you to our Valentines Parking Lot Sale!We will be offering all exclusive purse designs from our 2010 collections at amazingly low prices, so come to our Moss Landing showroom and shop to your heart's content! This super sale will only last two days, so mark your calender and be prepared to be swept off your feet! Feb 11 and 12
8022 Moss Landing Road, 831-633-5503 ask for Stella
http://www.stellapage.com
Romantic Music and Tapas:
The Haute Enchilada Restaurant is featuring a wonderful cultural music experience for the Valentine's weekend. In addition to the delightful menu with seafood to vegetarian specialties all made with fresh ingredients, this romantic patio setting will have the following for your romantic atmosphere:
Feb. 11, Friday - Classical Guitar
Feb 12, Sat. - Jazz Pianist
Feb 13, Sun - Caribbean Steel Drums
Feb 14, Mon. - Flamenco Guitar
7902 Moss Landing Rd. 831-760-0952 ask for Kim for more details
http://www.hauteehnchilada.com
Cuddle Up Valentine Special:
Captain's Inn at Moss Landing, a bed and breakfast, adds a romantic touch to valentine's celebrations. The Sweetheart Special includes spa soaps and soaks, fresh cookies, and chocolates for your loved one, all placed in the room free of charge prior to your arrival.
Captain's Inn at Moss Landing features 10 guestrooms, each decorated in a unique nautical motif and perfect for cuddling in. A new Boathouse features six waterfront bedrooms decorated in seashore themes, including boats crafted into unique bed sets. The Historic House, once the Pacific Coast Steamship Company, was renovated in 2003 andt features four bedrooms; each dressed with local and nautical antiques. All bedrooms have a private bathroom, king- or queen-size plush-top bed, robes, feather pillows, fireplaces, telephone, TV, and high-speed internet connection. Homemade hearty breakfast is served each morning. A bouquet of Valentine roses can be delivered to your room for an additional charge. 8122 Moss Landing Rd.831-633-5550 ask for Melanie
http://www.captainsinn.com
Moss Landing is a quaint, historic fishing village that is full of hidden treasures and enjoyable activities including: shopping for art and antiques, buying fresh seafood, visiting fine art studios, seeking out fashion purses, dining in delightful restaurants, coastal bed and breakfast, birdwatching, boating, fishing, whale watching, observing wildlife in a National Reserve wetlands, walking on the beach, exploring history and historic architecture, planning a garden, escaping to a scenic hidden place, enjoying the mild climate, and surfing. This is one of the best places in the world to see Sea Otters. There are several popular annual special events not to be missed. This charming seaside town has something for everyone!
Moss Landing Antique Street Fair is JULY 31, last Sunday in July. About 200 vendor booths, collectibles, yummy food, music and shop for bargains!
Moss Landing, California is located in the middle of Monterey Bay, right on Highway One, look for the boats and turn towards the ocean. Just South of Santa Cruz and just North of Monterey
###