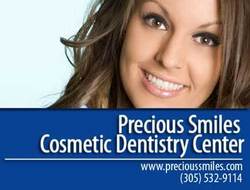 "It is amazing to see the change that laser contouring, porcelain veneers, dental implants, or even a one-hour teeth whitening can have on a patient's life. After the treatment, they are more confident and happy to smile"
Miami Beach, FL (PRWEB) February 3, 2011
Dr. Isidoros Mereos, one of Miami's top cosmetic dentists provides patients with a variety of treatment options to achieve remarkable results. Dr. Mereos and his team use the latest dental technology including laser contouring, dental implants, veneers or lumineers, Invisalign (invisible braces), and in-office fast teeth whitening to restore his patient's smiles. Laser soft tissue contouring often enhances the outcome of other dental cosmetic procedures by providing a way to contour the gums and ultimately providing a more balanced smile. Patients can visit the Precious Smiles Cosmetic Center website (http://www.precioussmiles.com) to see all the treatment options available to them. They can also call Dr. Mereos's friendly staff to schedule a consult.
"It is amazing to see the change that laser contouring, porcelain veneers, dental implants, or even a one-hour teeth whitening can have on a patient's life. After the treatment, they are more confident and happy to smile," said Dr. Mereos. The process for most cosmetic dental procedures is simple, fast, and painless. Great results can be achieved in just a few visits.
Dental implants are an excellent way of replacing missing teeth. With new dental implant technologies available today, even patients that were not candidates for dental implants before are now able to enjoy the benefits of implants. "Dental implants give patients the confidence that comes from not having to worry about loose dentures or removables," says Dr. Mereos.
"Our team combines the best treatments available in dentistry today to achieve best smile makeovers for our patients," says Francis, office manager at Precious Smiles Cosmetic Center. The entire Precious Smiles team is dedicated to their patients and they work closely with patients to ensure they understand all the treatment options available to them. The consultation process is simple and done in a warm and friendly environment. At the end of the initial visit patients are better educated and can make more informed decisions about their dental health and are on their way to getting the smile they have always wanted.
About Precious Smiles Cosmetic Dentistry Center: Located in Miami Beach, Florida. Dr. Isidoros Mereos provides a full spectrum of dental services incorporating the most advanced dental techniques. These include dental implants, bone grafting, veneers or lumineers, Invisalign, cosmetic fillings, laser treatement, and fast in-office teeth whitening. Visit the Precious Smiles website to see what patients are saying about Dr. Mereos and the Precious Smiles team at http://www.precioussmiles.com or call (305) 534-9114 for an appointment.
# # #