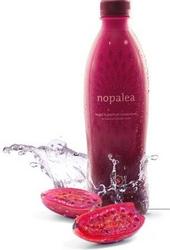 Scottsdale, AZ (PRWEB) February 7, 2011
Nopalea, the anti-inflammatory wellness drink from TriVita, was designed to address detoxification and chronic inflammation, and North Americans from all walks of life have reported reduced aches, pains and soreness, improved breathing, improvements in skin conditions and more after consistent use.
The key component of Nopalea is Betalains, rare and potent antioxidants found in the fruit of the Nopal cactus (Opuntia Ficus Indica), from which Nopalea is made. Only found in a few of the world's plants, the Nopal cactus fruit contains one of the highest amounts of Betalains found in nature.
Scientists originally believed Betalains were just the pigments that gave the Nopal cactus fruit its rich color. More recently, researchers have found that Betalains are also powerful antioxidants that help neutralize toxins as well as support the structure and function of cells. Betalains have also been shown to help reduce the risk of blood clots by protecting the lining of blood vessels, which helps reduce the inflammation that makes blood sticky and can lead to clots.
Betalains support the cells by helping maintain the proper ratios of minerals inside and outside the cells. The Betalains in Nopalea help neutralize toxins by supporting the body's natural detoxification processes and draining away toxic accumulations of waste. This includes increasing the activity of CYP-2E1, an enzyme that neutralizes daily toxins. Neutralizing toxins can help protect cells against the hormone disruptors, respiratory toxins, developmental toxins and neurotoxins that are responsible for one-quarter of the world's disease. When fewer toxins surround cells, more nutrients can reach them, which helps equip the cells for repairing and replacing damaged tissue, as well as better equipping them to reduce the reactive inflammation that toxins promote.
Humans are exposed to toxins from many sources including pollution, parasites, pesticides, foods and even the body's metabolism. If toxins build up in the body, it can lead to chronic inflammation, which has been linked to a wide variety of serious health conditions. Chronic inflammation can also stem from trauma, stress and deficiency. Nopalea was designed to help the body detoxify and help the body reduce inflammation.
TriVita launched Nopalea in June 2009, and it has since become their best-selling product. TriVita is a Scottsdale-based wellness company that encourages people everywhere to experience wellness®: physically, emotionally and spiritually. Learn more about Nopalea at nopalea.com.
These statements have not been evaluated by the Food and Drug Administration. This product is not intended to diagnose, treat, cure or prevent any disease. Children, women who are pregnant or nursing, and all individuals allergic to any foods or ingredients should consult their healthcare provider before using this product. You should not stop taking any medication without first consulting with a healthcare provider.
###