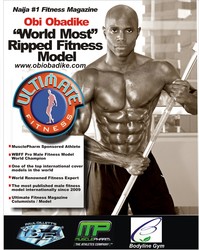 "Through UFM's diligent research of Obi Obadike and his accolades on the internet we know that the magazine has signed the number one fitness model in the world today. In Nigeria many people see Obi as a global role model and a West African Fitness Icon
Abuja, Nigeria (PRWEB) February 20, 2011
Ultimate Fitness Magazine is proud to sign the the WBFF Pro Male Fitness Model Champion and MusclePharm sponsored athlete to a global West African endorsement contract. UFM is excited about having Obi Obadike being virtually the face of our West African Fitness magazine. UFM plans on using his likeness and brand on multiple covers, features, fitness articles every year and promotional marketing posters promoting the magazine in all gyms all over West Africa.
Part of this sponsorship agreement with Mr Obadike is promoting Obi's sponsors specifically the WBFF and MusclePharm with their respective brand logos. Those respective logo brands will be used at all times on all articles he writes, promotional posters of Obi in gyms all over West Africa and any marketing pieces that will be promoting the magazine with Obi's likeness and brand. Editor and Publisher Chinonso Anayahie of Ultimate Fitness Magazine says, "Mr Obadike is a 2nd generation Nigerian who was born in the U.S. and we believe his international fitness celebrity status in the fitness industry can help bring back fitness in Nigeria through the vehicle of our magazine.
He is a role model to so many young West Africans that are trying to get in shape and want to attain the same success he has had in the fitness industry. In Nigeria people already see Obi as a global West African icon and role model to many young Nigerian kids who will influence so many people through the vehicle of Ultimate Fitness Magazine."
Publisher of UFM states,"Through UFM's diligent research of Obi Obadike and his accolades on the internet we know that the magazine has signed the number one fitness model in the world today. Ultimate Fitness Magazine thinks his brand and marketability globally in the fitness industry can help influence the magazine sales dramatically and that is the main reason why we have signed him to this endorsement spokesmodel contract. In numerous interviews that UFM has researched of Obi it is quite evident that his success in the fitness industry has opened doors for many blacks/Africans in the fitness industry that have the desire of being a cover fitness model and a working fitness model."
WBFF World Champion and MusclePharm Sponsored Athlete Obi Obadike states, "I am really excited about being an endorsed athlete for Ultimate Fitness Magazine. What excites me about this opportunity is being able to use my education and knowledge to really help educate the people of Nigeria and West Africa on living healthy productive lives through my expert articles and my presence there. If I can use my name in the industry to bring health and fitness back in West Africa that would mean more to me than any dollar, cover or contract I ever landed in my career.
Another thing that excites me about this contract is being able to negotiate in my contract with Ultimate FItness magazine to promote the brands of the WBFF and MusclePharm in all marketing campaigns and any articles that I am being used for the magazine. This is something I wanted to do for the WBFF and MusclePharm which is to help to elevate their brand and name in another country particularly West Africa. To be able to do this with this contract truly gives me great joy as an ambassador for both organizations. I always felt as a world champion and spokes model that you have to go above and beyond your duties for the organizations you represent."
About Obi Obadike in 2010: Obi had arguably the best year out of any male fitness model in the world by landing 13 covers over the past 13 months, dozens of features, winning the WBFF Pro Male Fitness Model WorldTitle, landing the biggest supplement contract to date in the fitness modeling industry with MusclePharm and being named the FMI Male Fitness Model Of The Year. He was also recently selected as one of the top 20 most influential fitness people on the web and he is also a fitness expert columnist for 12 fitness magazines globally which is unprecedented by any fitness personality in the world.
Over 2 million people read his articles all over the world in all of the magazines he represents. Obi is a former top Division Collegiate sprinter at Cal State University of Fullerton. Before graduating from the university he broke three major school records in the 100, 200 meters and 400 relay. He also was athlete of the year and was All Big West Conference Honors 2 years in a row. During his collegiate track career he trained and competed against some of the fastest world class olympian sprinters in the world and was coached by 1976 Olympic Gold Medalist sprinter the late Benny Brown. Obi's personal website is http://www.obiobadike.com.
Although he is known as "The Most Ripped Fitness Model In The World" he is an incredibly educated individual with two bachelors' and a Masters Degree which is something we respect tremendously. In Nigeria being educated is something that is a very well respected achievement.
Ultimate Fitness Magazine hopes this endorsement spokesmodel sponsorship contract of Mr Obadike will help bring global awareness to Ultimate Fitness Magazine and bring awareness to fitness in West Africa and specifically in Nigeria. For more information about Ultimate Fitness magazine and this endorsement contract please go to http://www.ultimatefitnessmag.com.
# # #