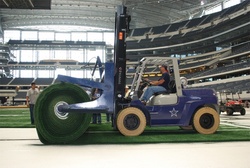 not only does the roll-up turf allow for different sports; when hosting concerts, boxing matches, and even Pro Bull Riding we don't have to worry about the turf being damaged
Austin, TX (PRWEB) February 3, 2011
Austin based Hellas Construction has been busy developing and fine tuning their Synthetic Turf for the Super Bowl XLV. The convertible turf in the Cowboys Stadium is a version of the NFL field that the Dallas Cowboys currently play on. The uniqueness of the roll-up system is the ability to remove or exchange a field in a matter of 48 hours.
The three-in one SoftTop™ Roll-Up system purchased by Blue Star Development is first in the nation to interchange three full fields in one venue – Pro Football, College/High School Football and FIFA Soccer. Bruce Layman, VP Turf Operations for Hellas says, "not only does the roll-up turf allow for different sports; when hosting concerts, boxing matches, and even Pro Bull Riding we don't have to worry about the turf being damaged." The turf is safely rolled up and stored in the stadium when other surfaces are needed.
The Alamodome in San Antonio was the first in the country to install the roll-up system in 2002, and installed their second SoftTop in 2009. "It is clear that more and more venues are moving to our SoftTop Roll-Up system because they realize it increases utilization of the facility, maximizes return on investment and simply provides the best surface," says Reed J. Seaton, President of Hellas Construction. Northern Arizona University and the Kibbie Dome at University of Idaho also have SoftTop Roll-Up systems.
http://www.hellasconstruction.com
# # #