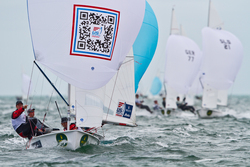 Our company has chosen to adapt to the new realities of marketing communications
Miami (PRWEB) February 3, 2011
AlphaGraphics, print and marketing communications specialists and title sponsor of the US Sailing Team AlphaGraphics, brought a customized QR Code to last week's Rolex Miami OCR. The first-of-its-kind QR Code was unveiled during training and competition at the second stop of the International Sailing Federation's (ISAF) 2010-2011 Sailing World Cup on US Sailing Team AlphaGraphics sailors Stu McNay (Boston, MA) and Graham Biehl's (San Diego, CA) 470.
The latest mobile marketing trend is QR Codes. As they appear on more and more outdoor advertising, banners and in-store displays, AlphaGraphics has seized its position as the title sponsor of the US Sailing Team AlphaGraphics to bring the technology to the race course. This code brings consumers to an AlphaGraphics tab on the Facebook page for US Sailing Team AlphaGraphics (http://www.facebook.com/USSTAG).
"It is so cool," said Graham Biehl, US Sailing Team AlphaGraphics 470 Men's 2008 Olympian and 2012 Olympic hopeful. "A lot of the other sailors are asking us about it and we're so excited to be the first to put a QR Code on our sail at such a high profile international regatta. It is great to be partners with a marketing company that can provide innovative technologies to the team."
The on-the-water QR Code marks the start of a new era for AlphaGraphics. For 40 years, the company has been primarily a design, copy and printing business. This year, AlphaGraphics is launching a fresh way of doing business in order to adapt to what they are calling "The New Now."
The company is transforming their business' key words from "print" to "publish" and has created a comprehensive road map to guide their nearly 300 franchises to succeed in the new marketing reality. While racing got underway on Biscayne Bay, a number of AlphaGraphics franchisees also met in Miami to learn more about the company's new core service offerings designed to help the company thrive in the new world of marketing communications, including online, mobile and e-Publishing services.
"Our company has chosen to adapt to the new realities of marketing communications," said Kevin Cushing, AlphaGraphics president and CEO. "We are fortunate to have an international sailing regatta of this calibre to highlight our new services and help to promote the team with this innovative technology."
About AlphaGraphics
AlphaGraphics, Inc. plans, produces and manages visual communications for businesses at nearly 300 owner-operated, locally-based business centers worldwide. Headquartered in Salt Lake City, Utah, the AlphaGraphics network leads the industry in sales per location. Backed by state-of-the-art technology, the world's highest quality standards and a global network, the company's trained and experienced team members are committed to delivering creative solutions that allow customers to communicate more confidently and effectively. AlphaGraphics is owned by Pindar Group, a leading print and electronic media company, which over the years has become known for its support of sailing through its sponsorship of several world-class sailors. http://www.alphagraphics.com
###