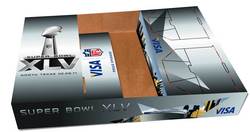 Greenwich, CT (PRWEB) February 3, 2011
For a second year, BRANDedTRAY takes to the Super Bowl, this time with VISA.
As one of the most popular sporting events in the world, the Super Bowl, with its associated value and unique demographic profile, provides the perfect opportunity for VISA to leverage its National Football League association via BRANDedTRAY. With over 100,000 fans in attendance, and thousands more in the open end zones and parking lots, BRANDedTRAY(s) will be providing tens of thousands of VISA-sponsored BRANDedTRAYS to promote the brand.
According to a recent consumer research study conducted by Sponsorship Research International (SRi), BRANDedTRAY demonstrated a more than 15% greater net awareness than in-venue billboard signage, and almost 40% greater awareness than In-Game promotions. "Our product works," reports BRANDedTRAY's,Tom Flynn, Senior Vice President of Sales. "More than 80% of fans recall our trays and the messages on them. You just can't say that about other in-venue media."
The trays display the logos of the NFL, Super Bowl XLV and VISA to reinforce fan association between the Super Bowl and VISA, all the while enhancing the fan experience. As consumer research has proven, 2 out of 3 people believe that BRANDedTRAY enhances the game day experience for fans. VISA is able to get inside Cowboys Stadium with the fans to improve their game-day experience, while creating greater relevance for itself with the Super Bowl and the NFL.
ABOUT BRANDedTRAY
BRANDedTRAY produces high-quality, sponsored food and beverage trays provided free during concessions stand purchases at sports and entertainment events in participating stadia, arenas and race tracks. BRANDedTRAY is the approved serving tray of MLB, NFL, NBA, NHL, MLS, NCAA and NASCAR.
Get more information about BRANDedTRAY and their pioneering text-to-win contests, sweepstakes, couponing and 2D barcode promotions by downloading BRANDedTRAY's media kit at: http://brandedtray.com/resources/media-kit, and "fan" BRANDed on Facebook.
MEDIA CONTACT:
Thomas Anthony Piccolo
VP, Public Relations
BRANDedTRAY, LLC
Phone: 203-861-7136
Email: thomasapiccolo(at)BRANDedTRAY(dot)com
Online: http://brandedtray.com/category/news/
# # #