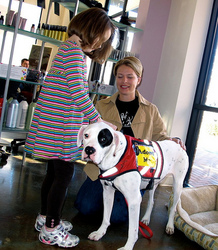 "It's so important for people to see great ideas like this 24-hour cut-a-thon and be willing to contribute their time and money to help organizations that impact underserved communities," said Pfaltzgraff.
Raleigh, NC (PRWEB) February 15, 2011
It's time, people. We can sit back and wait for somebody else to fuel our economy. Or, we can make change in the world, one great idea at a time. A team of hairstylists at Blo, a Raleigh, North Carolina salon, came up with an idea just crazy enough to work and certainly fit for imitation. The 25-person staff at Blo decided to use their hair styling talents for shear charity, raising much needed funds for a nonprofit reeling from dried up donations.
Blo recently finished its "Snip Snip Give: 24-Hour Cut-A-Thon" to benefit the nonprofit Society for the Prevention of Cruelty to Animals of Wake County. After 24 hours of haircuts for more than 250 human participants, Blo donated $13,322 to the SPCA, which serves as a no-kill shelter dedicated to finding good homes for adoptable pets.
An idea this good is worth imitating, especially for businesses looking for ways to use their creativity to help the many nonprofits whose funds have disappeared during this languishing economy.
According to Blo Owner Bryan Nunes, his staff did their homework.
"We have a dedicated group that took the time to research and select a nonprofit they could put their full support behind," he said.
Staff learned the sad truth that in Wake County, taxpayers spend more than $2 million to round up, house and destroy more than 10,000 animals each year.
"The SPCA works hard to help area pets avoid that fate," said Nunes. "We felt like grooming humans was the perfect way to help."
Nunes and his staff knew they were onto something when they launched their all-night cut-a-thon. "We've done this for four years now, and the community sees this as a great opportunity to make an impact," he said.
"We're thrilled with the support we receive when more than 250 people show up to participate, some at all hours of the night," said Nunes.
The cut-a-thon began on a recent Sunday morning with stylists working in shifts throughout the 24 hours. Volunteers from area beauty schools helped by washing hair and sweeping up the clippings. Local businesses donated food, prizes and, of course, lots of coffee. The team concluded its efforts the following Monday morning.
"Just in time to close for the rest of the day and catch a long nap," said Nunes.
This year, participants made a minimum $40 donation for a haircut. All money raised from haircuts, gratuities, raffle and retail sales was donated to the SPCA.
According to Hope Hancock, executive director of the SPCA of Wake County, this type of contribution makes a huge impact for a private nonprofit dedicated to finding homes for more than 3,000 animals every year.
"Blo's event was an extraordinary life-saving gift to the SPCA. As a no-kill agency working to make this a no-kill community, it is a terrific boost to have this generous funding," said Hancock.
"I applaud Bryan and the Blo staff. The community is a better place because of their altruism," she said.
The cut-a-thon garnered a lot of attention for both Blo and the SPCA. Regional television and radio stations covered the event during their broadcast news and morning shows. It also garnered feature-length coverage from the region's daily newspaper.
Unique events like this show the impact small businesses can make during a very difficult time for charities.
Two years ago, Blo held its 24-hour cut-a-thon to benefit The Arc of Wake County. The $13,100 raised that day turned out to be The Arc's largest single donation of the year and helped spotlight citizens with developmental disabilities who oftentimes get forgotten.
"I literally get choked up when I think back about the selflessness of the owners, staff and all of the volunteers," said Jennifer Pfaltzgraff, president of the board of directors for The Arc.
"As the parent of a child with cerebral palsy, the event demonstrates how many people care about my son's future," she said.
Sometimes the craziest ideas can make the biggest impact. In the first four years of Blo's 24-hour cut-a-thon, the salon has raised nearly $50,000 for four charities.
This dedication hasn't gone unnoticed.
In 2008, Blo won a prestigious Global Salon Business Award for its creativity. Last year, it was named an "Elite" salon by Redken 5th Avenue NYC, and one of America's top 100 salons by ELLE Magazine.
Thanks to happy employees who look forward to fun charity activities like this one, Blo also was the first ever salon named to the Triangle Business Journal's Best Places to Work in 2010.
"It's so important for people to see great ideas like this 24-hour cut-a-thon and be willing to contribute their time and money to help organizations that impact underserved communities, whether it's for those with developmental disabilities or other organizations," said Pfaltzgraff.
Crazy ideas like this may be just what saves local charities and businesses alike.
###