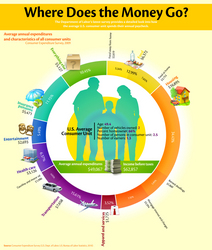 Knowing what we do about consumer spending, if consumers utilize the savings we are able to offer, they can save on average, $3,723 a year
Sacramento, CA (PRWEB) February 3, 2011
The current economical stalemate has led to frugal household spending. With budgets getting tighter, the secondary gift card market has seen substantial growth in 2010. GiftCardBin, an online retailer of discount gift cards, has noticed a significant increase in sales and bulk transactions. This is an indication that individuals are not only purchasing to their favorite stores but rather, are purchasing more to accommodate their daily needs.
According to The Department of Labor's Consumer Expenditure Survey (2009), the average consumer spends an average of $24,820 on items such as food, clothing, transportation, and entertainment. Today's economy has definitely changed the way consumers spend their money and if one thing continues to ring true, it's the power of a good bargain.
GiftCardBin has established its "Your World on Sale" motto by offering average discounts of 15% on most popular merchants. GiftCardBin will pay cash for the gift cards people don't want and then GiftCardBin turns around and sells the gift cards at a discounted price.
"Knowing what we do about consumer spending, if consumers utilize the savings we are able to offer, they can save on average, $3,723 a year," states John Topete. "The lackluster economy brings out the couponing tendency in all of us," said Sharon Baker, executive director of Shortcuts.
GiftCardBin has also instituted online giveaway promotions to offer additional savings to its supporters. Through Facebook and Twitter, GiftCardBin will be giving away several gift cards a month to popular brands such as Best Buy, VISA, Walmart, Target, etc. For additional information contact John Topete (925) 335-6651.
# # #