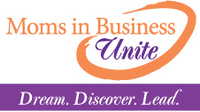 Our goal remains to inspire women entrepreneurs to success...
San Diego, CA (PRWEB) February 3, 2011
Moms in Business Unite, offering a unique educational conference to enhance the professional and personal lives of women and mom business owners, announced today that it will hold its third annual conference on Wednesday, August 3, in San Diego in addition to launching inaugural events in Atlanta (May 19), Boston (October 12), Denver (September 2011) and Detroit (October 2011). The success of the previous conferences helped fuel this expansion, coupled with support from Platinum Sponsor Huggies® MomInspired™, which has a grant program that provides funding and resources for inventive moms with baby or childcare product ideas and businesses.
"Women who attended our first two conferences have benefited so greatly from what they've learned that it created buzz in other cities and requests to hold conferences there," said Randa Cote, founder of SPE Solutions and Moms in Business Unite chairwoman. "Our goal remains to inspire women entrepreneurs to success, and we're so grateful to have the Huggies brand involved so we can help as many women business owners as possible."
Past conference attendees have reported tangible results including tripling their business revenue and self-publishing a children's book. The resources that helped them will be included at each conference: a keynote speaker, panel discussions, breakout sessions, networking, and a resource marketplace—where women will discover products and services to assist them with their businesses—as well as a New Inventor Showcase and awards.
To learn more about Moms in Business Unite and relive the excitement of the 2010 conference, visit http://www.momsinbusinessunite.com.
About Moms in Business Unite
The Moms in Business Unite Conference is the vision of five women entrepreneurs who united to empower and educate the growing number of women in business. The annual event, inaugurated in San Diego in 2009, provides business education and solutions for establishing a balanced work and family life by bringing together accomplished instructors, relevant life and business topics, and a truly unique learning environment. It helps women and mom business owners pursue their entrepreneurial dreams by providing tools, resources, and guidance through the various stages of business ownership. Learn more at http://www.momsinbusinessunite.com.
About Huggies® MomInspired™
The Huggies brand provides simple solutions for moms and dads to fully enjoy each and every day of parenthood. The Huggies brand is a part of the Kimberly-Clark Corporation portfolio of trusted brands and is essential to helping moms around the world have a better life. Launched in 2010, the Huggies® MomInspired™ Grant Program was created to provide the resources and seed capital for moms to either turn their great ideas inspired by personal motherhood experiences into successful businesses or help take their existing businesses to the next level. For more information and to view the first round of grant recipients, visit http://www.HuggiesMomInspired.com.
###