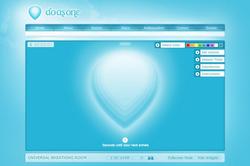 Beverly Hills, CA (PRWEB) February 3, 2011
While thousands unite with The Dalai Lama in Karnataka, India on February 5th & 6th citizens of the world will be breathing together on DoAsOne.com during this monumental occasion.
His Holiness The Dalai Lama has called forth over 10,000 monks and travelers from around the globe to help initiate the teachings of The Buddha Maitreya, the intentions of which are to bring abundance and joy to all of humanity. This is the first time that a Dalai Lama has conducted such a sacred blessing.
Elevate Films is documenting this historic event and collaborating with Do As One to "Elevate Unity' through the breath on DoAsOne.com during this event. During these days people will be breathing together synchronously in Do As One's Universal Breathing Room (UBR).
The main gathering times in India and on DoAsOne.com are Saturday, 2/5/2011 at 3AM to 6AM GMT (7PM to 10PM PST) and Sunday, 2/6/2011 at 3AM to 6AM GMT (7PM to 10PM PST) in the Universal Breathing Room.
DoAsOne.com automatically references user IP addresses to show where everyone breathing is located around the world in real time.  At a pace of five breaths per minute, breathers can instill the power of conscious, deep breathing while oxygenating, heightening awareness and increasing overall wellness. 
Do As One has done very minimal marketing of its Web site so visitors mainly come from personal sharing by supporters and donors. In the past 6 months 235,137 unique visitors from 171 countries and 10,423 cities have been referred to Do As One. Thousands more come each day. To date the most synced breathers at one time is 853 people on 11/29/10 in the UBR.
About Do As One
Do As One is a non-profit dedicated to serving and connecting humanity by establishing a legacy of healthy, conscious breathing. Our vision is that 1 billion people will breathe together synchronously on DoAsOne.com by November 11, 2012.
Contact:
Breathe(at)DoAsOne(dot)com
Do As One
433 N. Camden Drive, 6th Floor
Beverly Hills, CA 90210 USA
# # #